4 Reasons why CRM Software is Success for Your Business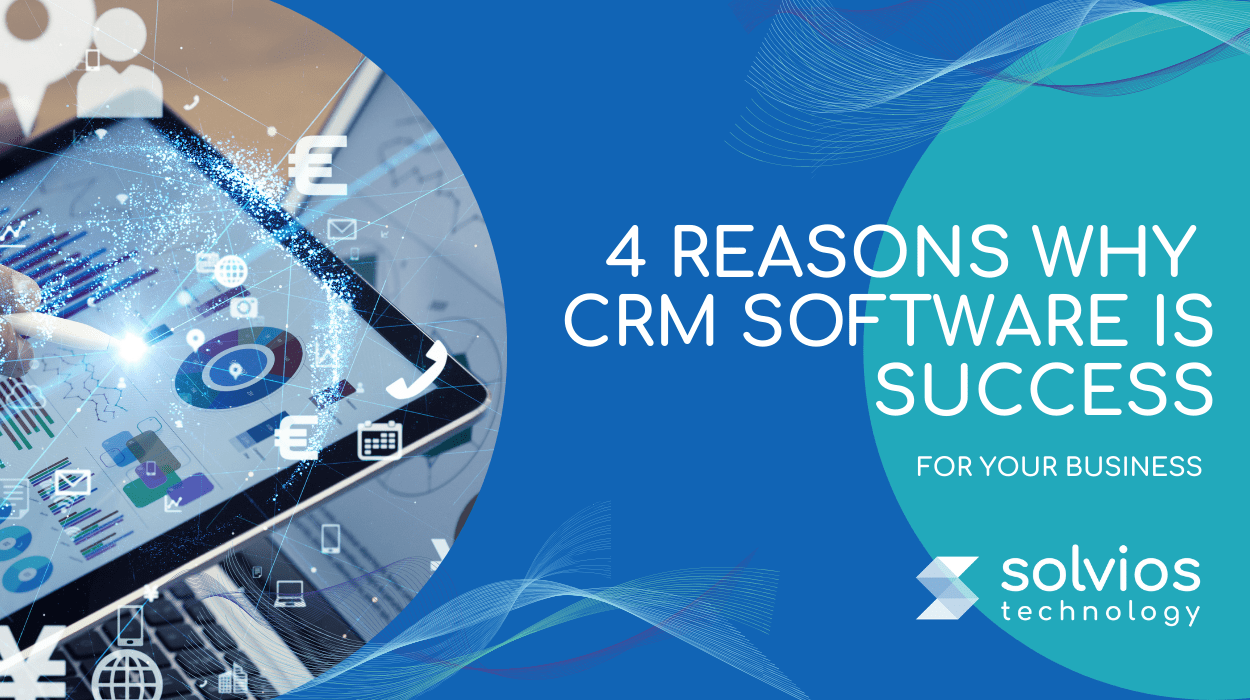 When it comes to successful business planning, the one aspect that decides success is the customer relationship. No matter if you are a small business owner or an established name, building a relationship with your customer is the most important aspect of CRM Software.
And in the era of digital communication, where the data related to the customer has become an important asset, the importance of CRM cannot be overlooked. Today, CRM is the fastest-growing customer relationship management software. The CRM market is expected to reach $82 billion by 2025. Today, already 80% of industries are using CRM Software Solutions. The firms implementing CRM solutions increase their sales by 29% on average.
What is CRM Software and Why it's Important?
Customer Relationship Management software is a process designed to gather all the customer's information in a single place. Implementing a CRM solution to your organization helps your business improve relationships with customers and increase prospects as well.
CRM software incorporates all the data pertaining to your existing and future customers so that your team can get broader visibility on the organizing process, manage pipelines, report generation, and can administer the sales process in a much better way. Agents will be able to log accounts of calls, emails, chats, support, purchases, tickets so that the relationship between the customer and your business service won't get overlooked.
In addition to the CRM, the reason why it is important and can be fruitful to your organization is that it manages all your customer-related information. This allows you to analyze the buyer's journey from the initial level of interaction to sales. CRM is your communication tool to communicate with your audience, deliver a better solution, enhance customer service, and organize overall data across your marketing and sales, and support departments.
For the marketing and sales team, CRM is a boon that allows scaling any organization and achieving the goal. Let's look at some of the crucial reasons why your business needs CRM Solutions.
1. Organized Growth
When your business sales are up, and you experience profit like never before, this growing stage of your organization is one of the motivating things you experience for your business. In such good times of business growth, sustaining your business with improved efficiency and productivity is crucial to reaching financial goals.
By implementing CRM software in your organization, you organize and automate your customer's data that allowing you to deliver better customer service. With the CRM process, your sales, marketing, and support staff avoid spending long hours searching and tracking customer data. Instead, it gives you the authority to gather accurate information about your customer's specific lead information.
For instance – CRM can help you in growing your customer contacts and leads in an organized and professional manner by automatically reminding you of appointments. This reminder assures zero errors in appointments. Also, it allows you to take follow up with leads throughout the buyer's journey.
2. Automate Day-to-Day Tasks
CRM software integration to your organization supports a diverse range of automated tasks to enhance productivity and organizing workflows. Some of the common automation tasks include – Marketing automation, Salesforce automation, and Service automation.
For instance – entering data, setting-up email sequences, logging customer interactions, automatic customer service tasks, communication with site visitors, and customers can be automated. This type of automation allows reps to easily manage their relationships with their customers.
3. Reporting
CRM makes your reporting process simpler.  The reporting features in a CRM allow you to get a comprehensive understanding of your sales and marketing processes so that you can optimize your work process.
CRM offers a variety of reporting features such as tracking leads through a sales pipeline, recording and analyzing customer reactions, segmenting customers, and more. This ensures your sales and marketing team access to accurate data for reporting work, which in turn, gives you better decision-making power for your business.
How CRM Plays Essential Role in a Telecom Industry?
4. Resolving Challenges of Customer-Facing Teams
Today, where everything is onto a digital platform, online medium is the power source to connect with your customers. To make your customers interact and engage with your product or service, there needs tracking and monitoring to improve customer service and convert leads.
CRM Software Solution can fulfill all such needs of customer-facing teams. The system easily integrates with other channels and services to track leads properly. This allows reps to communicate with leads efficiently.
Grow Business with CRM – CRM assists your business to grow in an organized and better way. Whether it's about maintaining customer-related information, making communication easier within your internal departments, converting leads into customers, or improving relationships with customers; considering a CRM system is the right decision for your company.