How Custom Software Development Can Make Your Business Win?
Whether you are an entrepreneur, an organization, or an individual team of software developers, you know how efficient software application development and management are. The approach to custom software development has turned into an essential business need due to the emergence of the digital economy.
If we talk about software development, customized software is a solution that can be tailored according to unique business needs and can boost business productivity and connectivity.
However, based on the size of the solution, custom software development can be time-consuming and it requires solid technical expertise with profound knowledge of design, development, deployment, and maintenance of software.
If you are seeking to scale your business, then an expert team of custom software developers can deliver quality yet performance-centric solutions.
If you want to develop, manage, and maintain a team of software experts in the long run, you need to be aware of the basics of software development and management too.
If you need to understand what Custom Software Development is, and the factors associated with custom software, the extensive piece of information shared below will guide you in the right direction.
Bespoke Software Development: The Definition
The bespoke software development process is a unique and customized approach to software creation that is specific to the client and their needs. It starts with an understanding of the client's goals and requirements, and then the development team works with the client to create a plan that will meet those needs.
The team will then work to create a custom software solution that meets the specific requirements of the client. This may include designing and building a new system from scratch, or modifying an existing system to better meet the needs of the client.
The bespoke process allows for a high degree of flexibility and customization, ensuring that the software is perfectly suited to the client's specific needs. The custom software development process is often relatively expensive compared to other options out there such as off-the-shelf software.
However, the benefits of custom software can be invaluable, and the cost associated proves to be worth going for when the software is critical to the success of the business.
When it comes to outsourcing the project to a software development company, it largely depends on the specific needs of the business. Custom software development is a complex and time-consuming process, and it's not always feasible for businesses to hire in-house developers to complete a project.
In these cases, outsourcing the project to a third-party developer may be the best option. However, there are some important factors to consider when outsourcing custom software development. First, it's important to ensure that the developer you choose has the necessary experience and expertise to complete the project. In addition, it's important to establish clear expectations and project milestones upfront and to maintain regular communication with the developer throughout the project. By following these tips, businesses can ensure that their custom software development project is a success.
Ready to accelerate your software project?
Use of Tailor-made Software
The benefit of bespoke software is that it can address any complex business need. Assuming that you really want to streamline an old process or just further develop another product arrangement, considering a custom software development process is the right choice. What's more, by and large, it can resolve issues that no off-the-shelf software incorporates.
Some Examples of Custom Software Development:
Education Portals
Business Account Management
Content Management Systems
Customer Relationship Management
Invoice Automation
Point-of-Sale Software
Inventory Planning
Scheduling Tools
Volunteer Coordination Webpages
Custom development is the best option for your business because it provides smooth and clear insights to both you and your clients.
As consumers are getting more tech-savvy by the day, they too expect an improved user experience with your business's products or services. And the same thing applies to your employees.
Custom software can help save your employees a lot by eliminating the need for manual tasks, and delivering the information quickly. Data can be accessed quickly through sales and marketing reports, which allows you to make decisions quickly.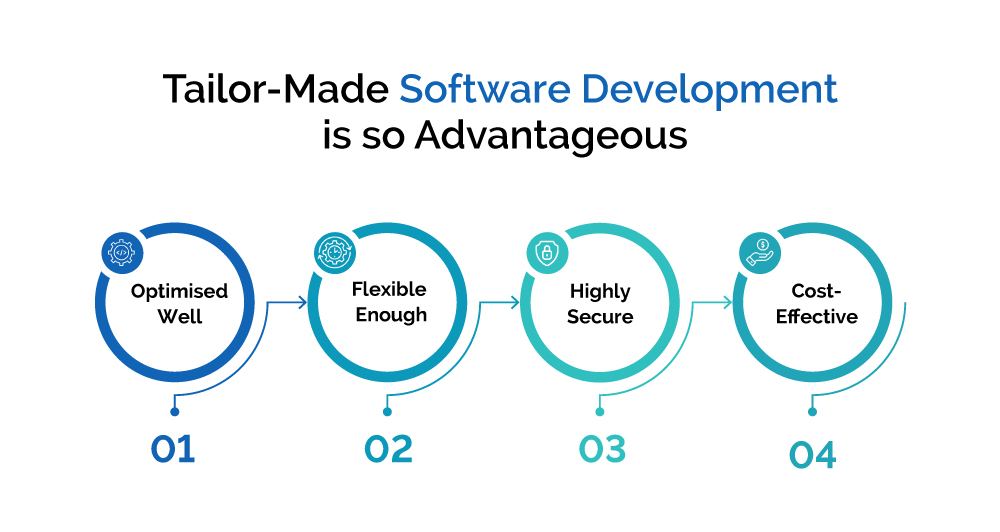 Optimized Well
Several software solutions tag themselves as one-size-fits-all products. But factually, no off-the-shelf software project will address every need of your organization, making it impossible to build a program that fits the organization's specific needs.
Customized software development means you don't have to change your business model to suit general software.
While you're building custom software solutions, you can focus on the administration that is essential for your business. This way, your designed software can be tweaked and modified to meet your requirements so that you can make your business operate the way you want.
Flexible enough
Regardless of whether third-party software seems to meet your business's ongoing requirements, those requirements are subject to change. Moreover, while the software product will receive timely updates, those updates will never be tailored to how your organization has grown and evolved. With customizable software, you can scale it in the direction your business evolves.
Highly Secure
While customized software may not really have more safety measures than off-the-shelf solutions, they are less prone to be a target for non-ethical programmers and other digital hoodlums.
Off-the-shelf software is easier to hack, because of the open-source code.
On the other hand, custom software is a closed-source project and is accessed by the assigned team. Hence, the chances of incursion are minimized.
Cost-effective
In several cases, organizations will buy a software solution and then not even utilize the enormous amount of tools offered.
You might wind up spending more money on programs you are less likely to try and prefer not to use. Your workers concur 64% of study respondents said they have a larger number of uses than their business needs.
Custom software allows processes quickly and productively without any requirement to manage the off-the-shelf apps. Custom software provides all the features required for your business, improves the overall quality of work, and minimizes human flaws. One more added advantage is you get a dedicated support team as a contracted service provider.
So when you face any issues, you can rely on the team rather than finding solutions in any third-party community. Thus, custom software development helps you enhance your performance standard.
Steps Involved in Custom Software Development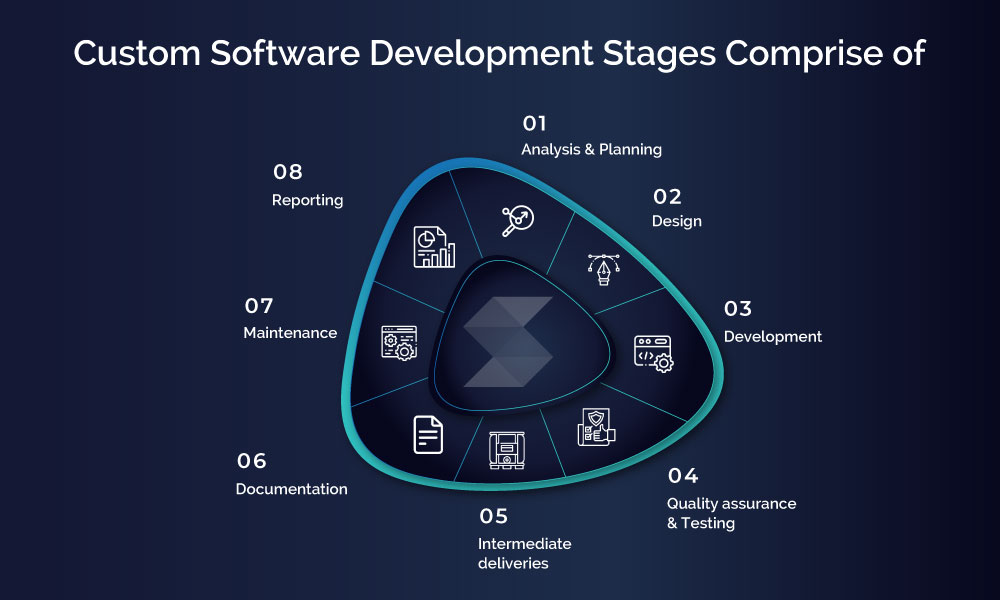 Analysis and Planning
Design
Development
Quality assurance and Testing
Intermediate Deliveries
Documentation
Maintenance
Reporting
Analysis and Planning
At this stage, we comprehend the business needs, values, and plans of the client.
Whether the client needs to spin off a web application or build an IoT platform, a comprehensive analysis and plan is put out based on the objective to be achieved.
This analysis and planning is actually a meeting between clients and developers to get an idea of the client's business, their goals, and the strategy to be implemented.
When it comes to working on new software projects, it begins with understanding the flow of technology patterns and primary qualities of the advancements intended to be utilized in this specific undertaking. In addition, project managers and business analysts perform research about implementation and maintenance prospects. Further, a software development plan is prepared which needs to be approved from the client's end.
Development
Backend development manages the application functionality. In fact, backend development constitutes the server side of development, where you are essentially focused on how the site functions, how the data will be collected and stored along with the security aspects.
When it comes to front-end development, the focus is more on the look and feel, and aesthetic design of your digital product. Frontend-end development is centered around the client side of the development and is assured to deliver a seamless user experience.
Quality Analysis and Testing
Quality analysis is a bunch of exercises to guarantee quality in software processes. This stage makes sure that the product meets and follows the characterized or normalized quality expectations.
QA is a process that involves the effectiveness and outcomes of a particular software product to ensure it meets the ideal quality measures. This overall helps in assuring the quality of the software in the long run and confirms the product's readiness for the market.
When it comes to differences in QA and testing, QA upgrades the quality through development processes while testing enhances it by finding bugs.
Intermediate Deliveries 
Intermediate deliveries extraordinarily help in providing quick feedback that promptly shows software developers the impact of their work. While errors are fixed rapidly, useful changes can be delivered and sent to clients without having to wait for a future release date.
Documentation
The development documentation comprises of:
Initial assessment document with processes of development
Roadmap
Technology Stack
Software specifications
Wireframes and UX roadmap
Coding documentation
Testing documentation
User manual
Maintenance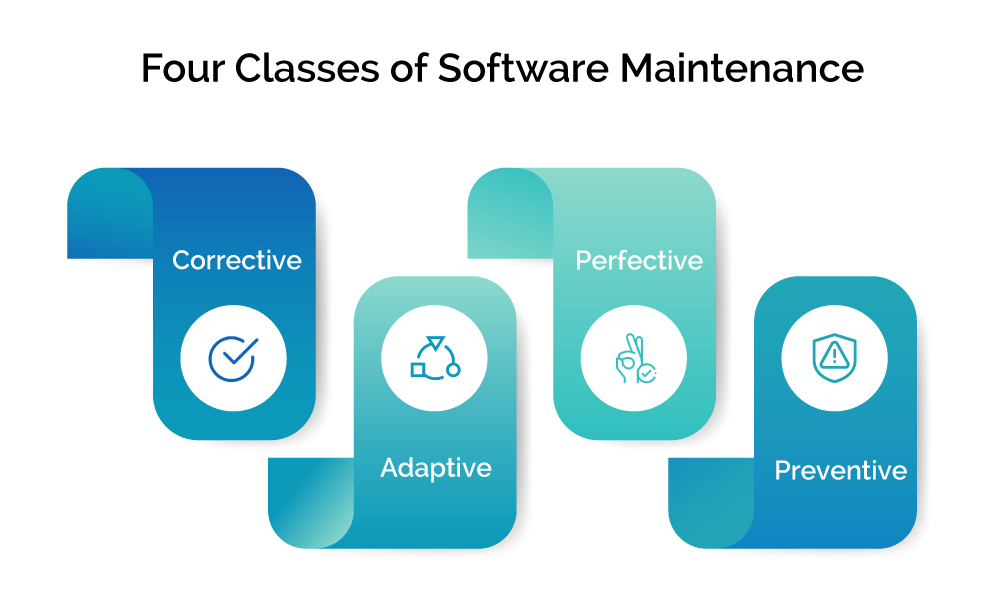 Software maintenance is a continuation of the coordinated effort with the client to improve, change, and update software products after delivery to address flaws and to further improve performance. There are four classes of software maintenance mentioned below:
Corrective: To redress a few bugs recognized while the framework is being used, or to improve the system performance.
Adaptive: Adaptive software maintenance becomes important when a customer needs the product to operate on a new platform, new operating system, or even new software.
Perfective: Perfective software maintenance is used to support new features or to change functionalities as per the customer's demands.
Preventive: Preventive software maintenance is to prevent future problems with the product.
If a project is outsourced, a software development company or a dedicated IT development team of experts holds major responsibility for software maintenance. At Solvios Technology, we are ready to prove our competence by providing dedicated developers and managers to deliver performant custom software development products.
Reporting 
Reporting helps us to keep our clients informed about the ongoing development phase or issues found or solved during the custom software development process. This is a critical part of the project and management strategy. A project status report needs to be issued in the beginning phases of development and when the product is released. The points covered in the reports include
Product information
Status
Project summary
Issues and risks
Project metrics and related technical elements.
Custom Software vs Off-the-Shelf Software: The Difference Explained
Custom software is defined as software that is a tailor-made solution created on demand to meet a specific need. When it comes to custom software development, the client has the final say on the interface, functionalities, data storage, and other critical aspects of product development.
Custom software development includes either the formation of a new application or the upgrading of the elements of existing software. It can be accomplished either by an internal team or an externally outsourced custom software team.
Custom Software Product Costing
As digital transformation becomes a need for organizations, custom enterprise software solutions are a priority for organizations globally.
From using application development to managing software, companies are considering custom software to fulfill a variety of digital needs.
Custom software development comprises not only enterprise solutions, but also mobile apps, desktop apps, GUI software, and more. Some of the in-demand software development projects are business automation, enterprise applications, eCommerce, CRM, big data, and educational software development, to name a few.
Factors that Decide the Cost of Custom Software Development
There is no particular technique that can calculate the exact cost of custom software development. In fact, there are several factors to calculate the cost of customized software.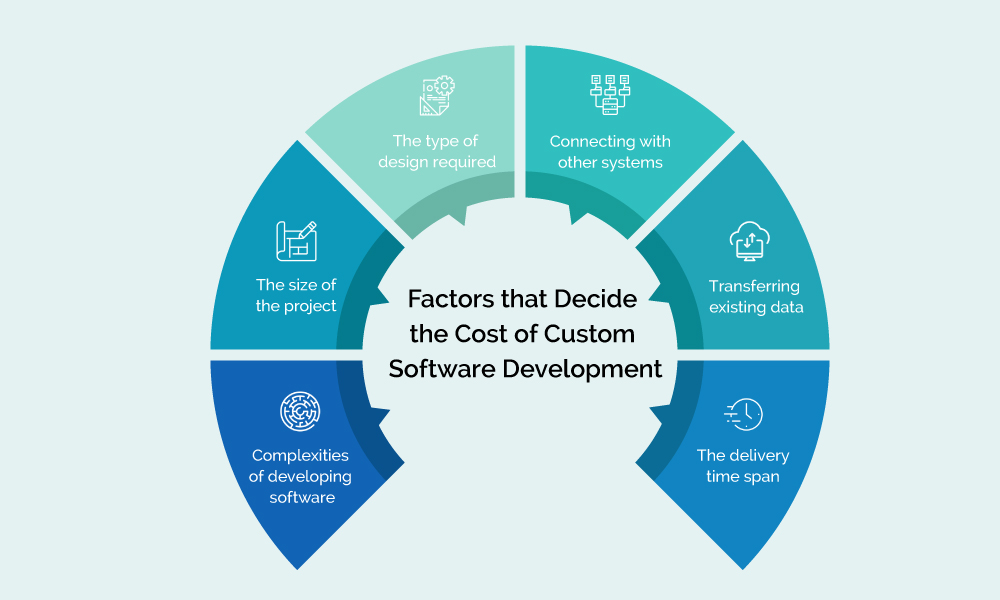 Complexities of developing software
The size of the project
The type of design required
Connecting with other systems
Transferring existing data
The delivery time span
Some examples of custom software are YouTube, Netflix, Amazon, etc.
Is there any chance of a mistake from the side of the developers?
Custom software development requires a tonne of effort, and despite making efforts, it happens several times that it doesn't generate the desired output.
Today, digitization is a vital part of all ventures and enterprise software development organizations. And custom software solutions are the initial step to digitizing an association's operations. It further develops efficiency, lowers workflow management costs, and connects all the stakeholders seamlessly.
Any software development solution comes with a few risks. Enterprises may strategize that software companies can build code and their software product will be complete. However, there are several challenges they face while building the code.
Let's discuss the challenges and complexities that developers face:
Implementing an Incomplete Strategy 
Many enterprises begin building applications without a complete strategy or execution plan. Often, stakeholders know the features they want in application development and begin with development.
Businesses should detail the improvements and create a step-by-step plan for developing the product.
By Prioritizing Cost Over Value
Many organizations commit major errors while outsourcing software development projects. They focus on cost as opposed to value and quality. Many organizations lament their choice, assuming it depends exclusively on the cost of development. Software development companies should have pertinent involvement in building the products that enterprises need. They ought to have a portfolio, and in particular, enhance their thoughts. Projects that cost modestly, for the most part, don't give the fulfillment that the partners look for.
Unclear Project Estimate
One of the quite possible mistakes in worldwide custom software development is unclear project estimates. Be it money or time, enterprise software development firms often provide project estimations.
Software development organizations should deliver the project within the estimated time frame. The Agile methodology is a great way to accomplish projects on time and achieve efficiency.
Inaccurate Product Testing
The absence of software testing or faulty software is something that can lead to long-term damage to the product. Several times, it can be seen that testers often skip essential components to be tested, which may result in product failure. Dismissing testing is likewise an unfortunate practice in programming improvement.
There should be appropriate testing set up for both unit and load testing. It gives some legitimate thought regarding the different issues that emerge even when a product is under development. Overall, software testing guarantees that the product goes to the client in a totally functional manner.
Off-the-Shelf Software: The Definition
Off-the-shelf software is produced for public use rather than for individuals. Since it is utilized for development purposes, the product modules are planned so that anybody can utilize a specific module. For instance, if you just need accounting software, it can be tailored to your specifications.
These products are intended to be incorporated into current frameworks. There is no requirement for customizability. Office suites, warehouses, and accounting software are some examples.
Cost of Off-the-Shelf Software
Most entrepreneurs believe that one of the best benefits of utilizing off-the-shelf software is that it's the least expensive choice compared with custom software. However, this isn't generally the situation.
It's more accurate to say that off-the-shelf software is less expensive with regard to its upfront investment. It's less expensive to purchase generic software products than to pay for custom-built software to meet your specific business needs.
Notwithstanding, off-the-shelf software can really be more costly for your business over the long run because of extra costs like licensing expenses, the expenses related to additional users, the expense of new versions, and any custom integration you might need in the future.
Therefore, depending on how long you intend to utilize the software and the number of clients that should get access to it, off-the-shelf software can turn out to be more costly than going for custom software.
Overall, it's essential to consider the upfront cost of the software along with the lifetime cost of the software.
Between the two which one is productive?  
It tends to be overwhelming for organizations to choose between off-the-shelf software and custom software development.
As discussed, off-the-shelf is pre-designed software built to cater to a wide range of customers. However, as a standard version for a wide range of audiences, it may fail to meet some specific requirements of the business.
Off the shelf has the following basic advantage: 
Lower Initial Cost
Availability of training resource
Existing customers and communities to get support
Unlike off-the-shelf software, custom software application development is designed and developed specifically for in-house use, assisting organizations to digitize business operations to improve overall productivity and efficiency. Custom software has the following basic advantages:
Great scalability
Security
Competitive edge
Seamless integration
Quick upgrades
With continually evolving technology, coding is no longer what it used to be. It's quick, effective, and generally easy, as the availability of open source has made code snippets promptly accessible for developers.
Off-the-shelf software is ready to use once they are installed. What's more, the drag-and-drop interface allows you to roll out even advanced apps without writing a single line of code.
As developers are good at coding, it's a no-brainer task for them to build custom software with the necessary features.
Plus, it's easier to address issues such as requirements, application configuration, testing, support, feature fixes, and general maintenance, which will necessitate dedicated time and support.
Off-the-shelf software doesn't call for creating codes, but organizations may frequently wind up battling to utilize agile methods to their maximum potential. Challenges generally emerge in ready-made software products due to deficient customization.
Practices Involved in Software Development 
Organizations frequently outsource when there is an absence of skilled resources and an inability to grasp the requirements.
However, if considering custom software development, it's important to assess your project needs and the processes involved.
By understanding the process, you will figure out the prerequisites of custom software required.
You need to consult a custom software development services provider about the current process as it reflects the general management process. Discuss the work processes and workflows with your development consultant.
Choose the Dedicated Software Development Team
Software development is a crucial process, and not all software development companies will match your requirements.
So, you would want to check in with your internal Software experts, explore different software firms and vendors, and hire a dedicated development team of experts on the basis of domain expertise, company size, security, location, and references.
Budget 
The main thing to consider is hiring a custom software development company that fits your budget and fulfills your requirements.
Along with the budget, pricking the right pricing model is also necessary. You need to be sure that your organization's requirements are met within an expected financial plan.
The following factors can impact the overall development costs:
Number of working hours to build a software
Hourly rate (which can vary according to the location of the partner developer team)
Third-party API costs annual or monthly basis
Pricing can also be split into two types: a time and material model and a fixed pricing model. The time and material models suit projects that do not have a defined scope and are based on the man-hours of specialists and resources used. In the fixed pricing mode, you need to determine the time of the project before it begins and calculate its final cost.
Choose the Right Technology
When deciding to outsource your custom software development project, you need to know the primary goal of your company. Your goal can be to automate the workflow, offer seamless custom journeys, or advance your business process to generate more profit.
Once you identify the need, it will turn out to be simple for your organization to approach a custom software development team and choose the particular software technology that best suits your organization's needs.
Using suitable technology for software development benefits the firm in the long run.
Detail Testing and Security 
Make sure you discover issues while testing your product applications, even before your clients and end-users do. This can be achieved through regular testing and quality assurance of the custom software. Testing applications is essential and should be tried by specialists reliably.
Your software application ought to be unique, and consequently, testing is done to achieve it with a qualitative benchmark. If you fail to test your software applications up to the mark, it could affect your brand position and client base in the long run.
To guarantee all information and data are protected during the testing system, test each logic and survey the security certificate and encryption. In addition, testing occurs at the following two levels:
Developers focus on technical aspects of testing
Company beta users focus on functionality testing or user acceptance testing to assure the software is working bug-free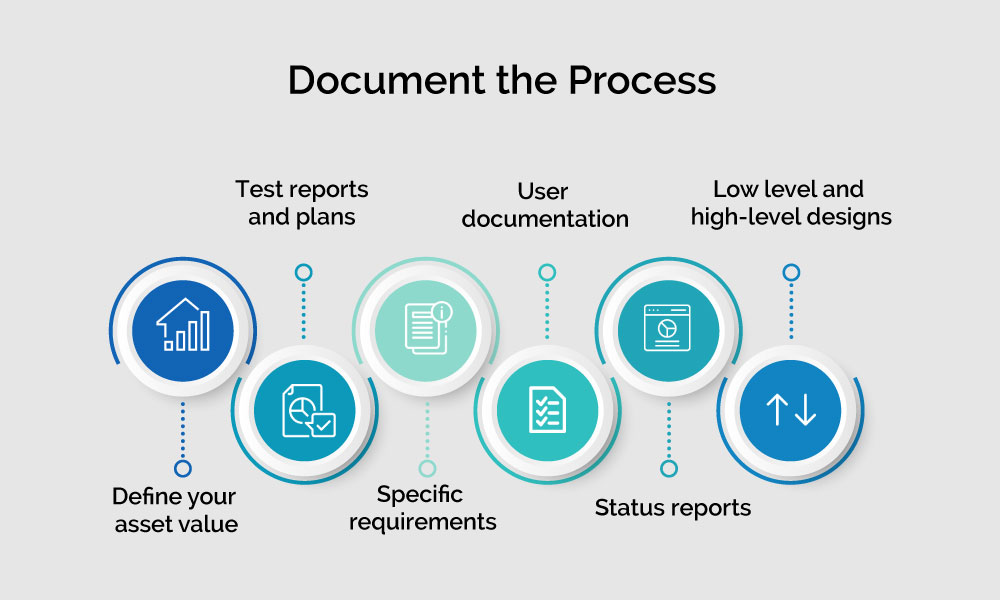 The documentation is crucial during the development and implementation stages. Documenting the process allows you the following:
Define your asset value
Test reports and plans
Specific requirements
User documentation
Status reports
Low-level and high-level designs
User documentation guarantees that users of the application are not left with dissatisfaction or questions after the launch of the software app.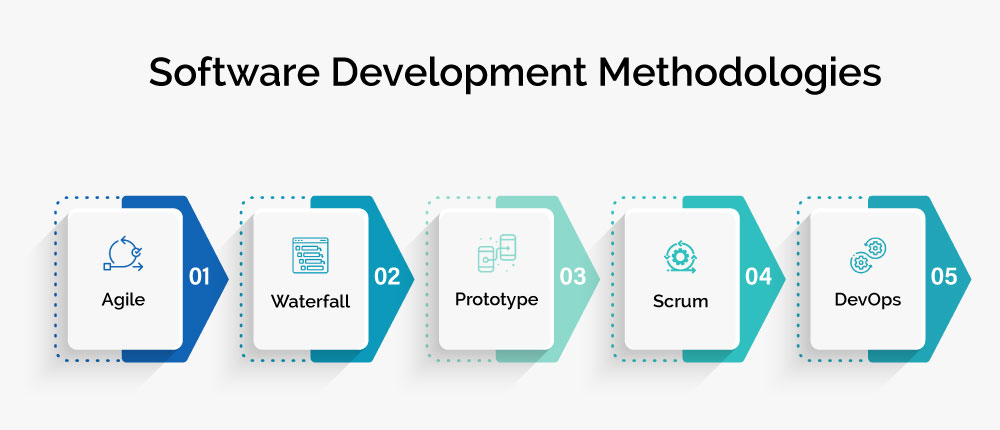 What are Software Development Methodologies? 
The software development methodology is a system that is utilized to plan, structure, and deal with the development process of a custom software application.
Unlike a technical framework, this procedure includes strategic planning throughout the development lifecycle and incorporates the stages that are expected to successfully coordinate the entire process effectively.
The fundamentals behind these procedures facilitate streamlined development and ensure a flawless structure to accomplish the development lifecycle. Let's take a look at these software methodologies.
Agile Software Methodology
Agile is one of the most commonly utilized software development methodologies among developers.
When compared to the linear technique, agile adopts a different strategy. Rather than emphasizing the documentation and the complex procedures, it centers around how to fulfill the client's needs.
These elements make it one of the forces to be reckoned with among the best software development methodologies in the market today.
Agile involves continuous feedback from clients in light of which modifications and changes are made to the custom software.
Communication plays a major part in Agile, especially among clients, developers, and users at regular intervals.
Waterfall Methodology
It is one of the most established methods among the other software methodologies. Despite the fact that this methodology is not used as often as it used to be, it is still significant in certain undertakings.
It is a straightforward, direct methodology where the development stages are successively organized in a cascading manner.  It's a reasonable and versatile development methodology. Moreover, it is exceptionally popular due to its high level of reliability.
Each stage should be productively finished prior to continuing on to the next stage. For example, every one of the prerequisites should be appropriately completed for one stage before the next stage of development can commence.
Prototype Methodology
Rather than building full-fledged software or getting into full-stack development, prototype methodology allows developers to quickly and easily identify and fix any potential flaws in the software before it goes into production.
The prototype is then sent off for testing, assessment, and criticism. Based on the feedback, the prototype goes through a few changes until it's acceptable from the client's perspective.
One significant justification for why this approach is viewed as one of the most incredible methodologies is the careful assessment that finds likely issues before the actual custom app development begins.
Methodology for Scrum Software Development 
Scrum is based on the Agile methodology and includes a Scrum Master, Product Owner, and the Development Team.
The product owner assembles inputs from the client and ensures that the team is on the right path to deliver the client's requirements.
The scrum master is a facilitator who guarantees that the team knows all about the Scrum process and the workflow. The team is responsible for executing the custom software development project.
This quicker execution process of Scrum empowers teams to sort out issues, plan solutions, perform testing, and get feedback in a short time. It lets you manage fast-paced projects quickly.
DevOps Software Methodology
DevOps is one of the fastest-gaining and widely used methodologies nowadays.
It isn't simply a standard advancement system; however, it includes a bunch of practices that further develop cooperation between various departments.
It provides seamless integration between the most important departments in terms of IT business processes i.e. Development and Operations.
In DevOps, development, and operations function together as a unified team to direct all the processes of the custom software development life-cycle.
Nowadays, organizations are selecting DevOps as a lean methodology that takes into consideration a firm collaboration effort between various phases of the software development life cycle.
The consistent incorporation and delivery model empowers teams to perform everything concurrently all through production.
Attributes to look at while outsourcing a project to a custom software development company
Putting resources into custom application development for your business is a significant choice, and it's much more critical to pick the right development partner.
Below are some criteria that you can use to assess the strength of the best-customized software development company. Let's have a look. 
Focus on Technology Preferences 
When outsourcing a project to a custom software development company, it is important to focus on technology preferences. This will ensure that the project is completed in an efficient and cost-effective manner. The first step is to understand the scope of the project and the needs of the business. This will help to determine the type of technology that is best suited for the project
Once the technology has been identified, it is important to communicate the preference to the custom software development company. This will allow the software development team to understand the exact needs of the project and develop a custom solution that meets the business requirements.
Additionally, it is important to discuss the timeline and budget of the project. This will help ensure that the custom software development company can provide a solution that meets the timeline and fits within the budget.
Get to Know App Development Experience
Any potential collaborator should guarantee that they will be heavily involved in your improvement project.
It ought to be certain that they have made the sort of commitment you are hoping to make, normally. While they probably haven't assembled the specific application you're hoping to create (all things considered, this is a custom turn of events), their work experience ought to reflect a mastery and working knowledge of key parts of your product.
One method for looking at experience is to review case studies, previous projects, and testimonials of clients. While assessing the firm as a possible partner, you can gather a lot with reference to how successfully they overcome their client's challenges and requirements including the quality of software products.
Multidisciplinary Expertise
When looking for a custom software development company to outsource a project to, analyzing their multidisciplinary expertise is essential for success. Companies that are experienced in a wide range of services, from IT solutions to software engineering, will provide the best results. In order to evaluate a company's multidisciplinary expertise, you should look at its portfolio of previous projects and the services they offer.
A comprehensive portfolio will show how a company has tackled diverse problems and how they have adapted its solutions to suit different needs. Additionally, you should investigate the range of services they offer, as this will indicate their level of expertise.
Finally, you should assess the company's team of professionals. An experienced team will be able to quickly identify the best solutions for any problem, and they should be knowledgeable in a range of disciplines. Furthermore, they should have a deep understanding of the technologies they are using, such as machine learning and artificial intelligence, so that they can ensure a successful outcome.
Look for a team with a long-term partnership
When outsourcing a project to a custom software development company, it is important to look for a team with a long-term partnership. The success of the project is highly dependent on the team's commitment and reliability. You must ensure that the team is well-experienced and able to deliver the project within the agreed timeline.
A team with a long-term partnership is more likely to understand your needs better and work collaboratively toward the success of the project. It is also beneficial to have a team that is familiar with your organization and its objectives. This helps in developing a clear understanding of the project and its scope. The team should also have a good track record and be able to provide references if needed.
When it comes to a long-term partnership, communication is key. The team should be responsive and open to feedback. They should also be willing to take on any challenges that may arise during the course of the project. Having a team that is committed to the long-term success of the project ensures that the project is completed to the highest standards.
Focus on Their DevOps Culture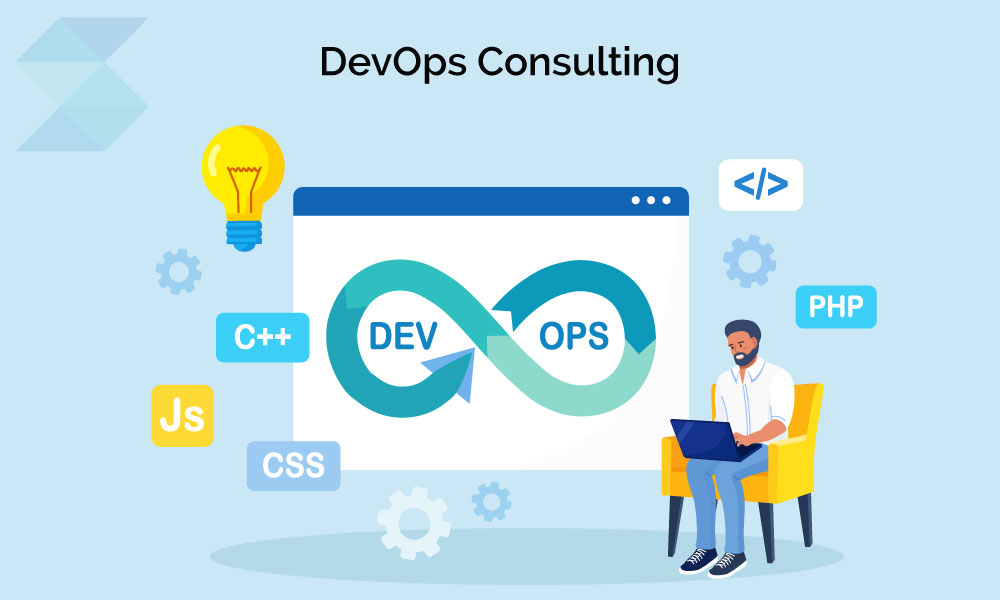 DevOps is a framework of practices that make application development more proficient and further improve the quality of a product.
From best practices for keeping up with code stores to overseeing complex projects, DevOps has emerged over the decades to develop a pipeline for continuous delivery.
A dedicated team of custom software developers with strong DevOps Consulting services and agile practice helps to simplify the development focus by introducing automation to the overall development process, that in turn, also saves your capital.
A professional enterprise DevOps Service provider can ensure to bridge the gap between software teams and IT infrastructure to help enterprises generate revenue and enhance productivity.
With a pipeline for release management, DevOps service providers can ensure that the product is released correctly and with all the desired features. A pipeline for release management allows for the tracking of changes, the monitoring of the environment for potential problems, and the rapid deployment of fixes or new features.
Commitment 
Quite possibly, the best contrast between a mediocre development partner and an excellent one is the capability of sharing knowledge.
A partner with a dedicated development team is more than a developer who is committed to success and is assured to be associated with you with complete trust.
They should work to boost your team and share the technicalities inside and out.
They should be able to collaborate with your team of developers if required.
After release, they should be ready to assist with onboarding and support as long as you would like.
Wrap Up
As organizations are approaching digital transformation, custom software development is needed for businesses to evolve. And because they are digitally transforming, those organizations are getting state-of-the-art solutions based on their specific needs.
In the coming years, more organizations will opt for custom software development methodologies for sure. Custom software solutions will become the backbone of any business. Consequently, any business will get a responsive, powerful, and high-performing service provider.
If you are seeking a custom software solution, your search ends here. At Solvios Technology, we are a leading provider of custom software development.