How Enterprise Mobile Development is a Crucial Asset? Explained with Benefits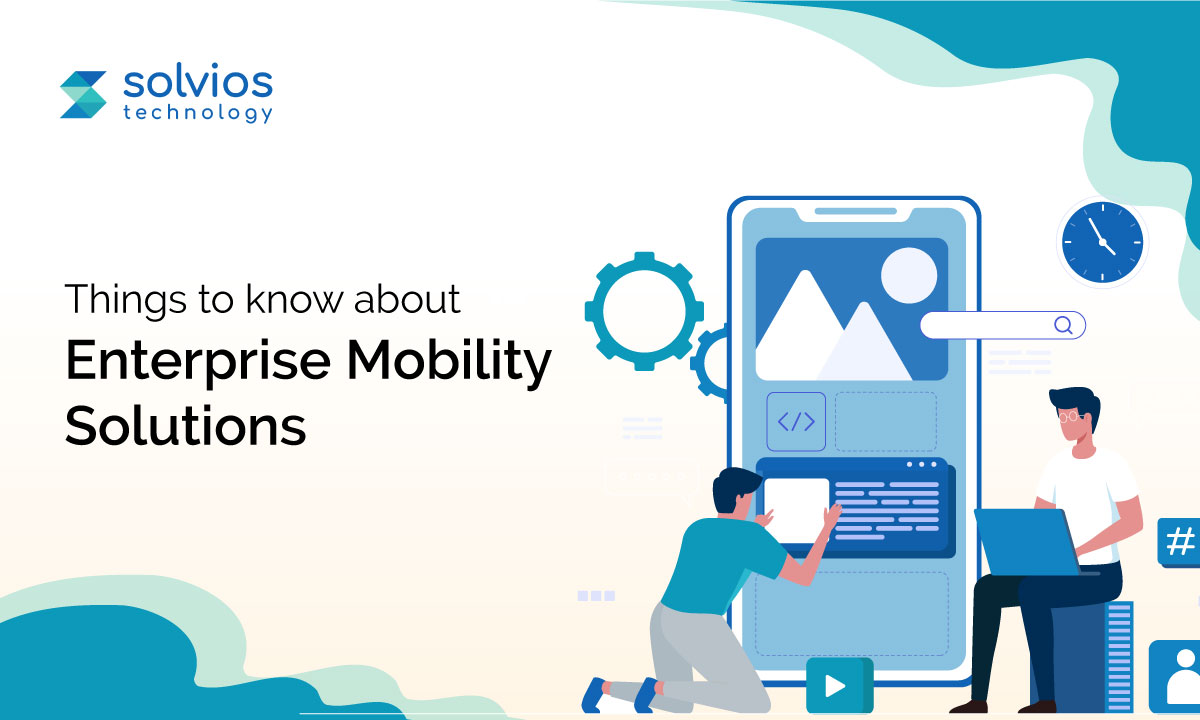 The Mobile Enterprise Application market size was valued at USD 90.53 billion in 2021 and is projected to reach USD 268.14 billion by 2030, growing at a CAGR of 15.25% from 2022 to 2030. In the world of the internet, where mobile devices have become omnipresent, businesses are benefiting from the efficiency and flexibility that enterprise mobile development offers.
Enterprise mobile apps allow you to deliver business services and product offerings directly to your clients and customers. The accessibility of mobile apps increases global availability and keeps your enterprise connected.
With smartphones acquiring an ever-larger market share, developing mobile applications is a perfect option to reach your customers and provide them beyond their expectations.
The enterprise mobile app solution is built for entrepreneurs, clients, and employees to manage all the projects, assign tasks, and conduct meetings. Enterprise mobile application development is different from day-to-day traditional mobile applications. Enterprise mobile app solutions can comprise employee databases, pending or accomplished projects, tutorials, assigned tasks, and much more for businesses.
Operating System and Software are expected to drive growth in the enterprise application market
Well, the global market is segregated into iOS, Android, Windows, and others based on the operating system. Among the multiple OS, Android is expected to capture the largest revenue share of the global enterprise application market, as a large number of consumers use the Android operating system on their smartphones across the globe.
By software, the enterprise resource planning segment is expected to rise at the highest CAGR during the prediction because it helps enterprises provide instant access to work centers, enhance operational efficiencies, improve workforce productivity, and improve communication and collaboration.
Enterprise app Development Software Types
Enterprise app development can enhance work efficiency both within the organization and outside as well. Employees can manage their meetings, tasks, and more from remote locations.
So, while you plan to hire a mobile app development company to outsource projects, let's understand the various types of enterprise mobile applications.
Mobile Application for Employees
Enterprise mobile application development to enhance employee productivity is ideal for optimizing an organization's internal work process. For instance, it helps teams to meet tight deadlines, and it lets managers stay updated on the multiple ongoing projects.
Mobile Application for Department
Department-centric enterprise application development serves the requirements of individual departments within the organization. The mobile apps can help improve workflow, overall management of the team, and coordination. The apps allow you to keep transparent communication between the customers and the organization, allowing customers to get feedback from support staff.
Mobile Application for Organization
Enterprise application development includes applications that improve an organization's operations. A company-level enterprise application allows perfect inter-department communication, which in turn allows seamless workflow. Enterprises can coordinate with their managers for any sort of document or database related to their work.
Mobile App Development
Where is the Future Headed?
Enterprise Mobile Application Development Benefits
With digitization around the globe, organizations today must automate business operations to ensure productivity and stay ahead of the curve. Mobile applications are one of the best ways to optimize business operations that are based on existing market trends. The following are some of the aspects of business management where entrepreneurs can reap the benefits from enterprise mobile app solutions:
Improved collaboration
When it comes to business communications, it's a crucial element that needs to be carried out according to the situation. Today, business communication has embraced video platforms, instant messaging, and file transfer options to ease communication.
Enterprise mobile application development enables your business to carry on conversations via video, chat, or phone calls on the go. In the era of the internet, no matter where the employee is, communication between a firm and an employee is just a single click away.
Accounting and Transactions
With an enterprise-based financial mobile app, it is super easy to manage and oversee payment transactions, deadlines, notifications, history, and more. Enterprise-class mobile app solutions can integrate multiple features of financial management into a single mobile app depending on the organization's customized needs.
Supply chain control
Enterprise application developers can build applications for the supply chain industry with features for managing transportation, courier work, and planning. For the supply chain industry, enterprise mobile app development is a boon to enhance efficiency and productivity.
Analytical Capabilities
When an enterprise mobile application is built, it can access the data required to track crucial metrics with the organization that helps you understand how to better optimize your business operations. Building an enterprise mobile app enables an organization to tailor your application to meet your business requirements while making changes and improvements according to future needs.
Understanding the way employees interact with applications helps businesses identify any sorts of inefficiencies. Moreover, with the real-time updates and dashboard reporting feature, it becomes easy for managers to track and analyze KPIs.
Increased Customer Satisfaction
An enterprise mobile application solution doesn't just ease the employee work process, it also delivers big customer satisfaction. Today, customers expect seamless experiences with the brands they choose. And mobile application development makes it easier for businesses to fulfill their customer expectations by providing them with a personalized digital experience.
When a business launches an enterprise mobile app solution, it is an instant benefit for consumers to access and explore the services or products instantly. Eliminating paper-based processes saves a lot of time and simply eases customer-based workflows. Plus, any sort of issue can be identified and resolved quickly while keeping interaction with consumers to build long-term relationships.
Build your Own Enterprise Mobile Application
There is no doubt that enterprise mobile applications can transform and nurture your business. An enterprise app allows you to build a tailored yet effective mobile app solution to support your business objectives.
With years of expertise in enterprise mobile application development, we at Solvios Technology can assist your business to take it to the next productive level.
Our enterprise application consulting include analysis, design, integration, project management, and technology solution on mobile and web app development. Connect with us to discuss your project requirements.
Schedule a meeting with our CRM Consultant today