How Salesforce Custom Solutions Can Help your Business Grow?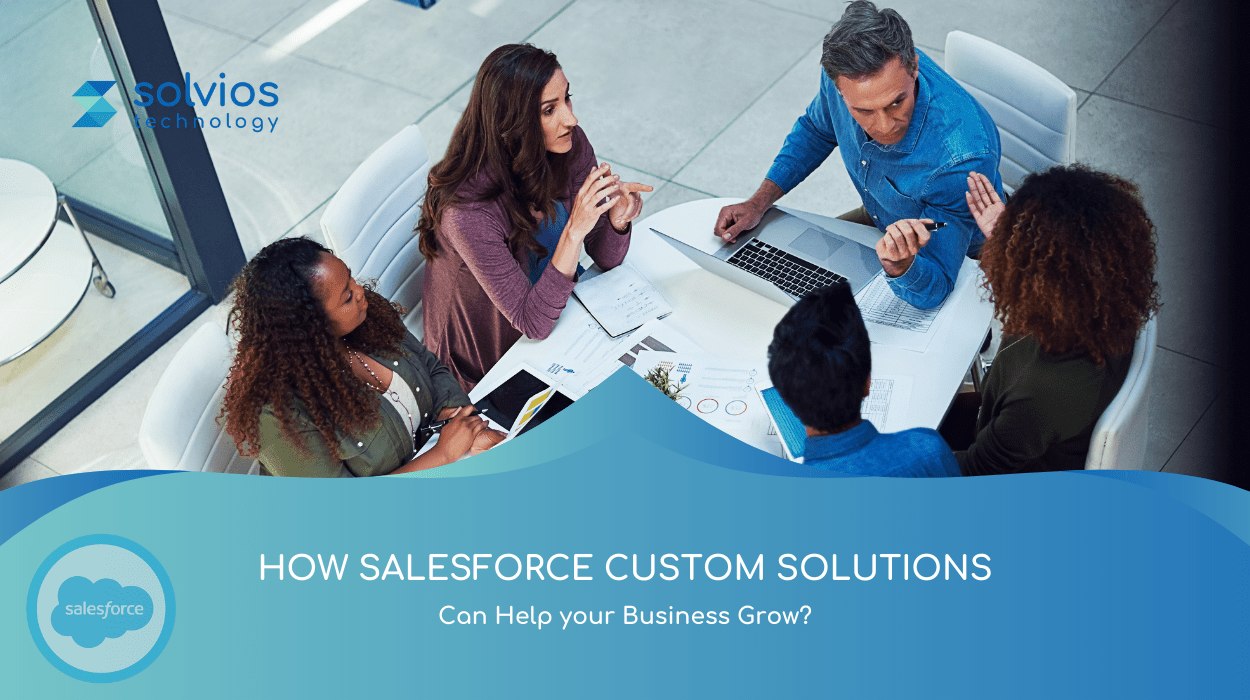 No matter what business you run, for every business providing better customer services has always been a priority. The sales and marketing team plays a crucial role to generate higher sales with greater efficiency.
And the essential step towards greater efficiency requires your team to have the right set of data to improve decision making, sales processes, understand customer's perspectives, and analyze future performance as well.
To organize, manage, and automate all your customer sales and service, Salesforce is one of the preferred cloud-based CRM software solutions. Salesforce transforms the way your business connects with your customers. It offers the features you require to optimize your business processes onto the automated platform with embedded intelligence.
With multiple Salesforce features such as Sales Cloud, Service Cloud, Community Cloud, Marketing Cloud, Health Cloud, MuleSoft for API integration, Analytical platform, Artificial intelligence; Salesforce streamlines sales processes through effective communication with your customers.
Even if you are deploying Salesforce for the first time, a salesforce software consultant can assist you in CRM implementation to help your organization meet the sales target and grow business faster.
The Growing Demand for Salesforce Consulting Services
The salesforce is a leading customer relationship management solution. According to Forbes, Salesforce holds more than a 19% share of the CRM market in 2018.
In 2020, Salesforce has been named as the #1 CRM provider by International Data Corporation (IDC) in the latest Worldwide Semiannual Software Tracker.
In fact, Salesforce increased its market share in 2019 by more percentage points than the other 13 CRM vendors. The report also suggests that Salesforce is the market share leader in customer service applications, sales applications, and marketing applications.
All in all, with the increasing software demand almost in every industry, there is a requirement for companies to hire a Salesforce consultant to organize and automate the sales process more efficiently. So, from the above figures, it's a fact that Salesforce will be in demand for the companies in near future.
Who Need a Salesforce Consulting Service?
Salesforce has today become one of the most preferred cloud-based CRM software that helps organize data of any organization's customers, sales and even forecasting all in one place.
With its continued demand among companies of all shapes and sizes – it has become the No.1 CRM provider worldwide for the fifth consecutive year by International Data Corporation. With this, employment opportunities for salesforce developers, admins, and analysts are also in great demand. These all make Salesforce a highly robust solution that is secure, scalable, and customizable. Its industry-specific capabilities to fulfill business challenges have made Salesforce CRM the best choice. The following are some of the most common industries that we specialize in implementing Salesforce CRM consulting services:
Finance
Education
Logistics
Retail
Manufacturing
Media
Health & life sciences
Government
If you are seeking to implement flexibility in your business process, get the assistance from right Salesforce Integration Consultant in all the areas you need support.
How Can Salesforce Integration Consultant Help Your Business?
Salesforce is a leader in sales, service, and marketing operations. With no software installation or networking devices to configure, it's the customized yet transparent platform to increase your industry's potential, grow revenue, and strengthen the bridge between your customer and your business.  Hiring a professional Salesforce integration consultant can assist you with the following tasks:
New Salesforce installations
Enhancing and improving existing installations
Migration of data from other systems into Salesforce
Integrating other platforms to work with Salesforce
Merging multiple instances of Salesforce
Creation of apps
If you are looking to hire a Salesforce Consultant in any of the business areas, we can help you with our Salesforce consulting services. Our salesforce experts would be happy to connect with you to scale your business salesforce cloud software.