The Manifest Names Solvios Technology as one of the Most Reviewed IT Services Companies in Ahmedabad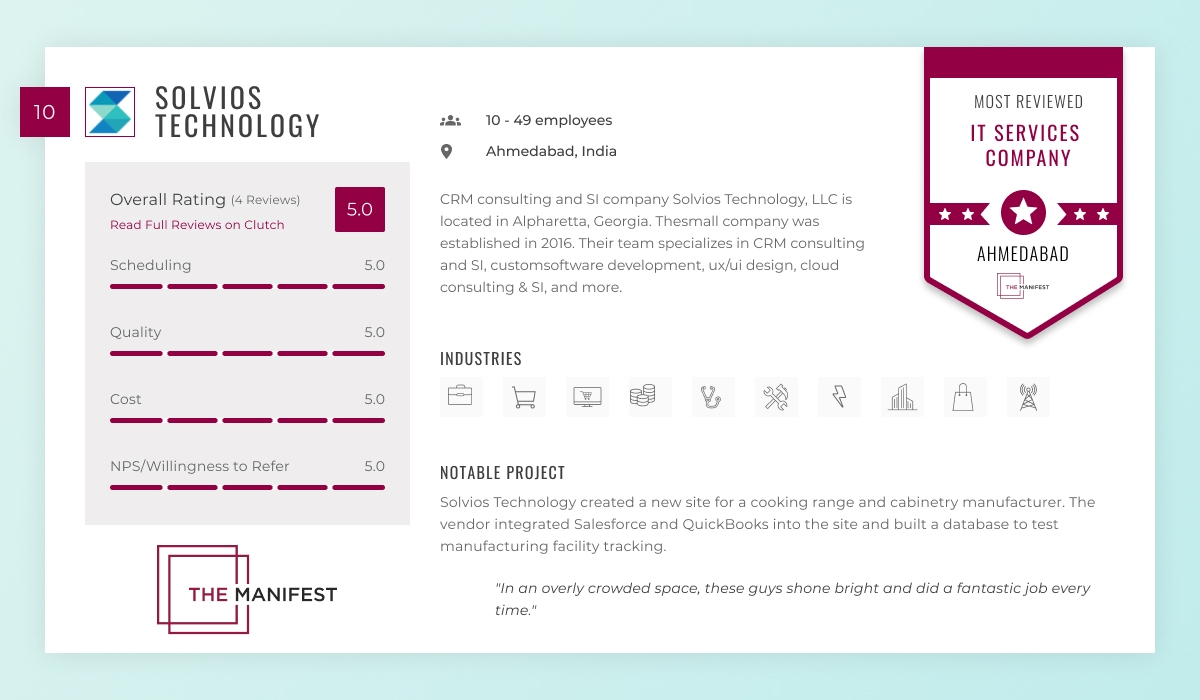 Solvios Technology has become an IT services provider in Ahmedabad, playing a role in the corporate revolution of our time. With a focus on technology-driven operations, data analytics for decision-making, and engaging platforms for customer interaction, companies are embracing innovation and automation.
Throughout the decade, Solvios Technology has stood out by delivering high-performance software solutions. Their expertise, business culture, and alignment with their client's ambitions have made them an innovative force driving transformation.
Recently, Solvios achieved another milestone by receiving recognition as one of the top-rated IT Services Companies in Ahmedabad. The Manifest A business blog that gathers verified data offers professional insights for brand success, bestowing this honor upon them. This award acknowledges Solvios unwavering dedication to providing services to clients.
The Manifest serves as a resource for knowledge, offering verified information and practical advice to help businesses thrive. Solvios extends its gratitude to The Manifest and everyone involved in granting them this accolade. It exemplifies their commitment to excellence and delivering cutting-edge solutions that empower organizations to thrive in today's world.
If you have any inquiries about how Solvios Technology can assist your company, please do not hesitate to reach out to us. Come and join us to embark on a path toward creating solutions that have the potential to take your company to new levels of success. 
Are you looking for trustworthy collaboration? Your quest ends here!