6 CRM Software Adaptive to your Business Development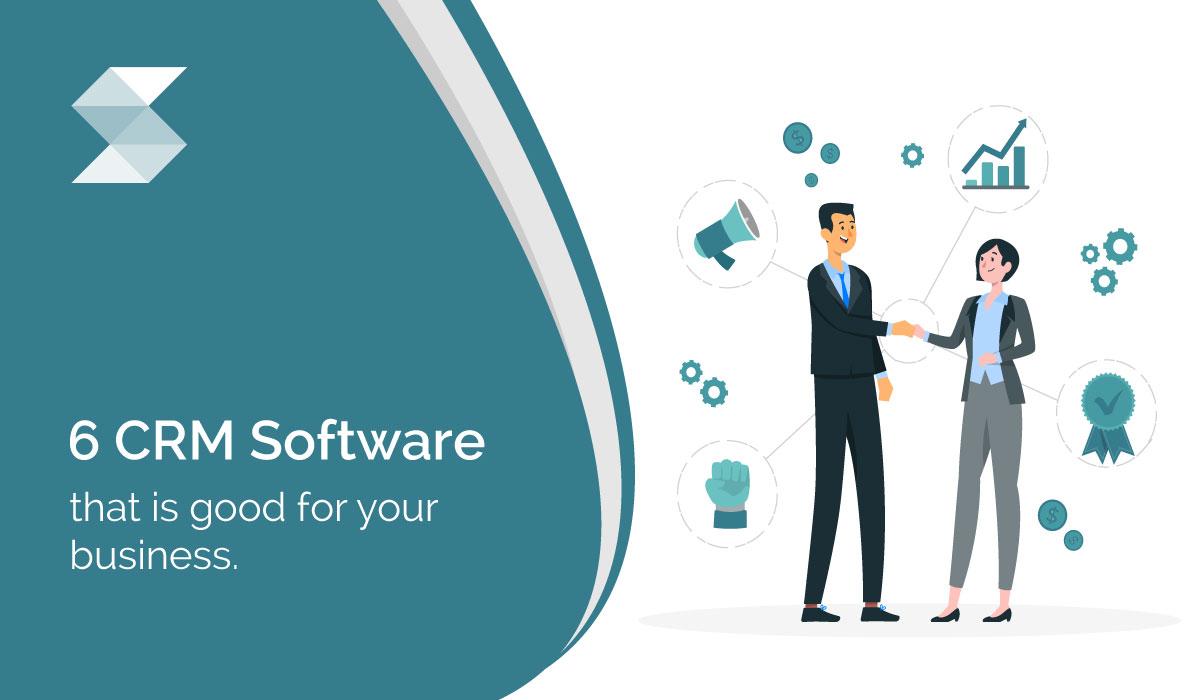 Customer relationship management plays an important role in establishing relations and building a loyal customer base. From maintaining data records of customers to building campaigns, logging communication to managing leads, CRM Software is a one-stop solution to organize and improve your organization's relationships with your customers. CRM software's ability to integrate with other business apps, sales, or marketing teams allows the organization to easily access client information and conduct various processes.
In contrast, when it comes to choosing CRM software, it depends on your business requirements. There is a variety of CRM software available, varying in terms of features and offers.
Let us provide an insight into the top CRM solutions, with custom integration into your business operations.
Salesforce CRM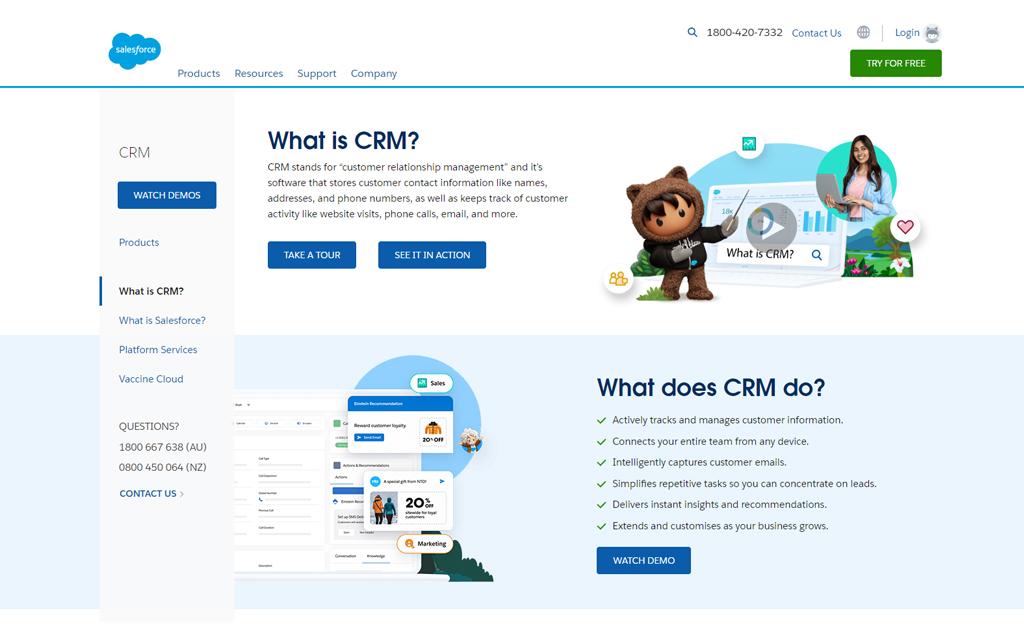 Pricing – Multiple pricing options
Salesforce is an industry-leading cloud-based CRM software provider in the international market. It is designed for marketing and sales processes. Irrespective of the technical know-how, Salesforce CRM software redefines the way businesses connect with their customers to build good relationships.
Salesforce CRM features an omnichannel platform for users to generate leads, increase sales, and manage customer relationships flawlessly. It also consists of a robust analytics module with comprehensive features in an easy-to-access user interface.
Salesforce CRM Benefits:
Communication using automation tools
Uses data analytics tools
It can sync data from multiple applications
Allows viewing audience in one place
One can gather in-depth insights to take further action in business
Salesforce CRM Features: 
Contact management
Quote management
Opportunity management
Territory management
Partner and channel management
Sales collaboration
Einstein Analytics
Lead management
Dynamic dashboards and custom reports
Comprehensive salesforce prediction
4 Reasons why CRM Software
is Success for Your Business
HubSpot CRM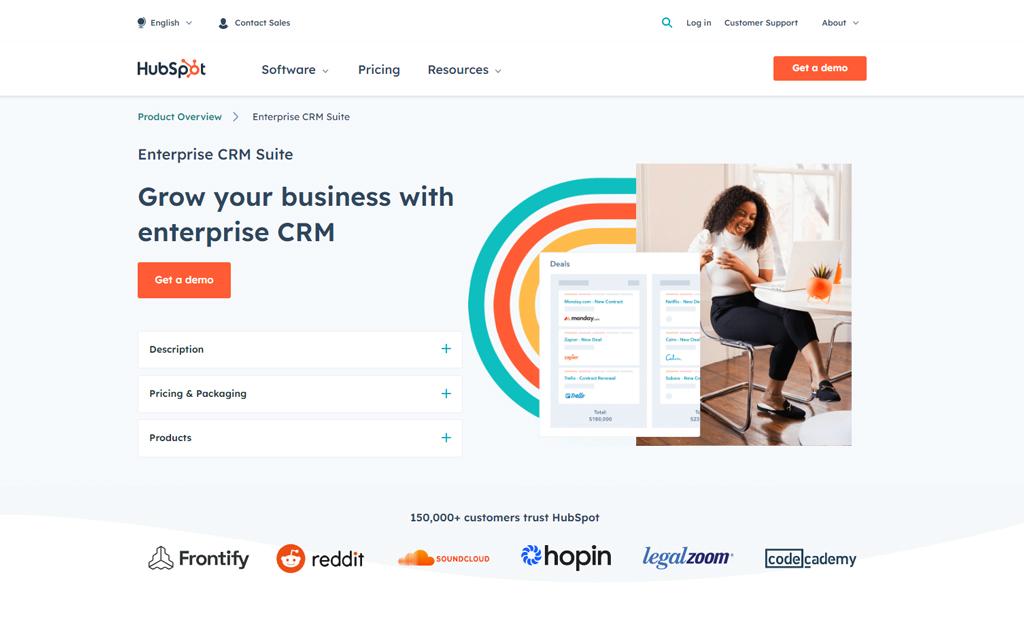 Pricing – $45.00/month (payable yearly)
HubSpot provides a free version of its tools for sales, marketing, customer service, and other business operation-related functions. Additionally, other essential HubSpot tools are monitoring sales pipelines, email inbox integration, and recording customers' website activity. It also provides email, and phone support to businesses in regard to the various functions.
HubSpot CRM can be integrated with third-party apps such as WordPress, Zoom, and Gmail. With the HubSpot CRM, businesses can monitor key performance metrics such as employee performance and sales performance activity.
HubSpot CRM Benefits
Social management features
Website integration
Communication tracking
HubSpot marketing tracking
Sales Marketing
HubSpot CRM Features
Customized dashboards
Easy task management
Gmail & outlook integrations
Email marketing
Built-in analytics & reporting
Lead collection tools
Automation tools & workflows
Segmentation
Mobile CRM
SEO integration
Ticketing system
Microsoft Dynamics 365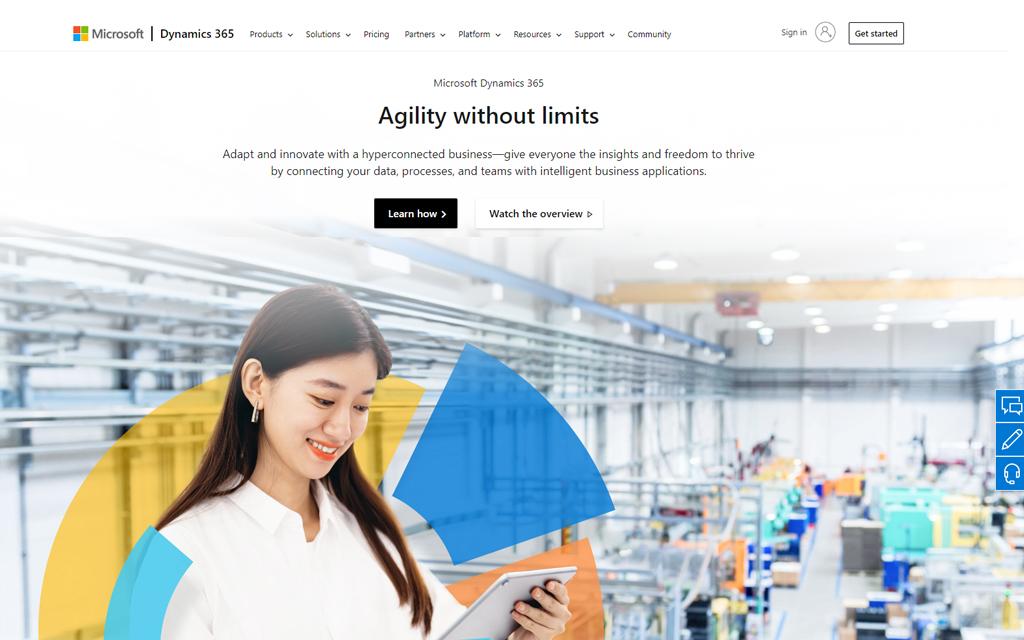 Pricing – Multiple pricing plans
Microsoft Dynamic 365 is a cloud-based CRM and ERP solution that offers a complete suite of tools to make business communication efficient and streamlined.
Microsoft Dynamics 365 Services is helpful for mid-market organizations who want to facilitate business relationships with their prospective customers and team members. Be it sales, business operations, or accounting, the platform comprises cloud applications to help manage various business processes.
This platform enables employees to access the required tools to be more productive. You can get access to valuable insights into performance and opportunities throughout their business intelligence platform.
Due to the combination of CRM and ERP, organizations can streamline communication both internally and with their customers.
Microsoft Dynamics 365 Benefits
Easy to use and deploy
Easily integrates with Microsoft products
Reduced Sales Cycle
Customizable workflows
Enhanced Customer Service Experience
Dynamics 365 Features 
It can be integrated with Microsoft 365 business
It is available as a cloud service or can be installed as an on-premise database
It is built for the mobile workforce offering a great user experience
It has access to IoT data inside Dynamics 365
Embedded Cortana Intelligence helps businesses achieve business goals with predictive insights and actionable workflows
NetSuite CRM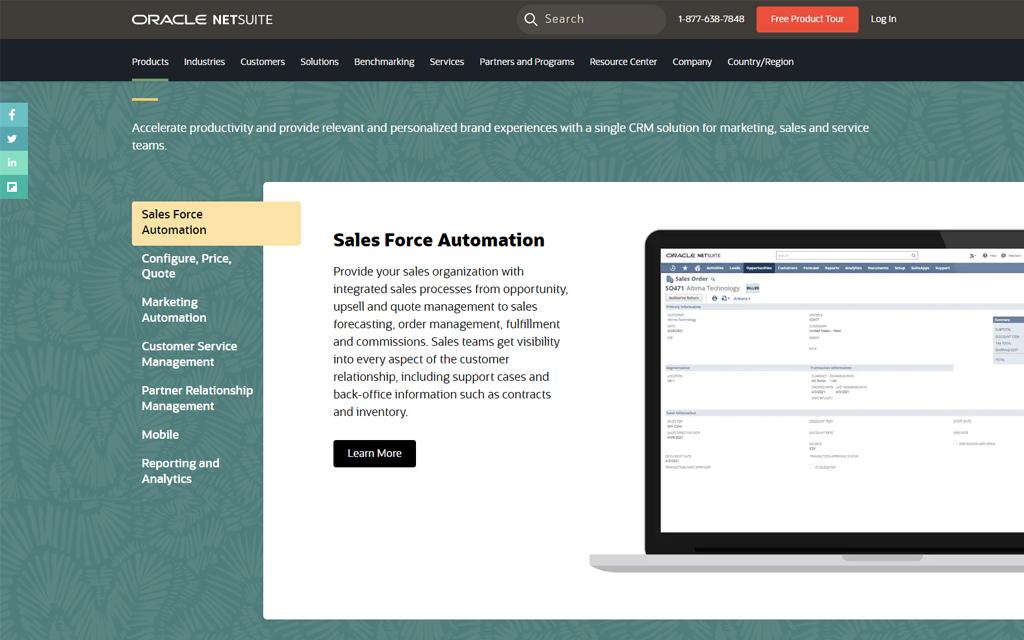 Pricing – Multiple pricing plans
NetSuite CRM software allows you to get a 360-degree view of your customers in real-time. For enterprises, it's a boon to have a continuous stream of information from all the touchpoints throughout the customer lifecycle. NetSuite CRM lets you engage and interact with your customers from multiple channels using a single tool.
NetSuite also comprises other CRM tools that deliver a complete business solution. To name a few are customer service management, modules for marketing automation, and Salesforce automation. It also comes with features like email marketing, tracking, and case management.
NetSuite CRM Benefits
It simplifies the work process
360-degree customer visibility
Knowledge management
It helps in increasing scalability, security, and mobile CRM processes
The vast collection of tools for departmental collaborations
It can manage case management with strong capabilities
NetSuite CRM Features
Campaign Management
Lead management
Partner relationship management
Customer service management
Sales prediction
Time and Email Tracking
Real-time dashboard
Salesforce automation
Marketing automation
Pipedrive CRM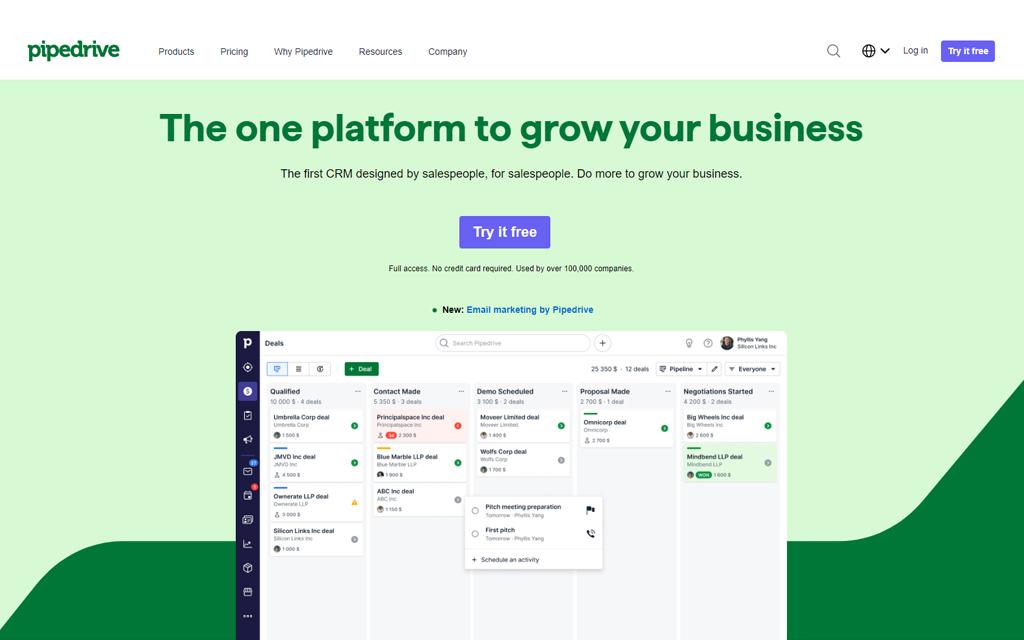 Pricing- Multiple pricing plans (Essential, Advanced, Professional, and Enterprise)
Pipedrive is a cloud-based CRM platform developed for sales teams. The CRM is easy to use and customize, making it a great option for small scale businesses.
For sales professionals, Pipedrive is a supportive platform that manages every phase of the sales process, right from lead generation to contacting customers. The forecasting feature allows sales teams to close more deals, visual pipelines define at what level a lead is in, and what sort of action is required.
Users can streamline tasks with AI and automation capabilities. It also offers integration and an open API that enables organizations to plug into third-party applications to enhance their capabilities.
Native applications for iOS and Android let users sync contacts, record audio notes, view routine priorities, and work with Gmail or Google drive to add files.
Pipedrive CRM Benefits
Visualize Sales Pipeline
Import Data Easily
Minimize Manual Tasks
Create Custom Features
Centralize communication
Pipedrive Features
Built-in telephony feature
Workflow automation
API access for full customization
Machine learning-based sales assistant
Unlimited customizable sales pipelines
Zoho CRM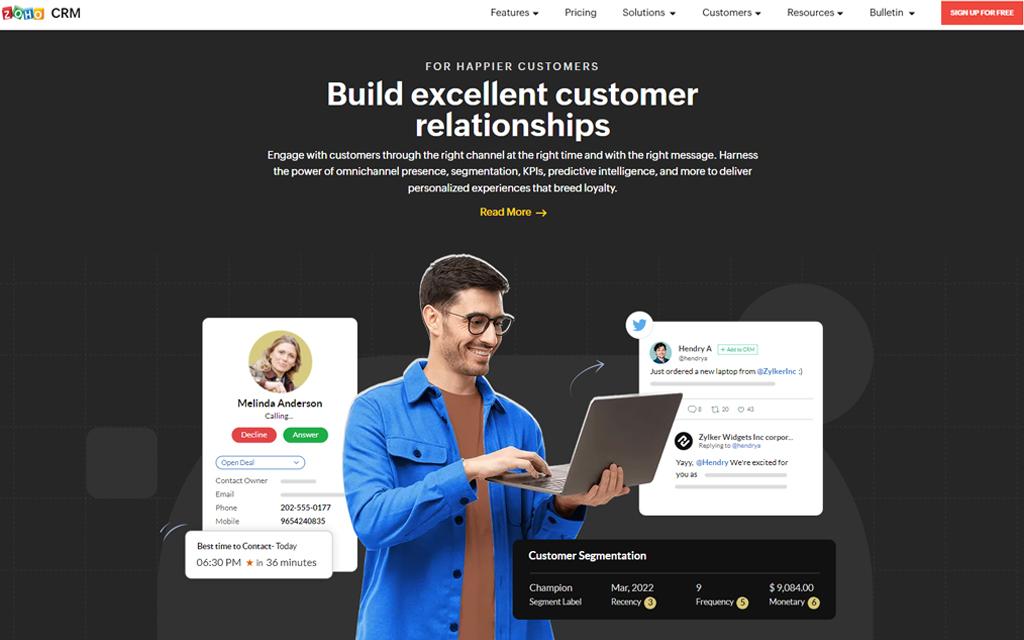 Pricing – Free Trial / Multiple paid plans (Standard, Professional, and Enterprise)
Zoho is a web-based CRM system designed to target and retain potential customers. With its intuitive design, variety of features, and third-party integration capabilities, Zoho CRM is an ideal fit for businesses of all sizes.
The CRM services a central hub for all the marketing, sales, and customer service processes, allowing businesses to streamline their operations and people altogether.
Industries such as insurance, real estate, banking, healthcare, media, and even non-profits; all can implement Zoho CRM to improve their sales, marketing, and customer services to a large extent.
Zoho CRM Benefits
Simple and easy to use
Easy migration from spreadsheets & other CRMs
Integration with third-party applications
Automation of Tasks to Save Time and Costs
Reports, Insights, and Analytics
Conversational AI to Power your Sales Team
Zoho CRM Features
Salesforce automation
Lead management
Deal management
Contact management
Workflow rules
In Conclusion
With the wide range of CRM software available with diverse functionality and features, you can select the right one that fits the needs and scale of your business. When choosing customer relationship management software, there are multiple factors including features, cost, set-up, and integrations.
If you are looking for a technology partner for custom CRM solutions, Solvios Technology's team of expert professionals can up the game for you. Our CRM support services will help your business to step up to the next level of success and productivity.
Schedule a meeting with
Our CRM consultant today