Enterprise Application Development – Types, Benefits, and How is it effective? Discussed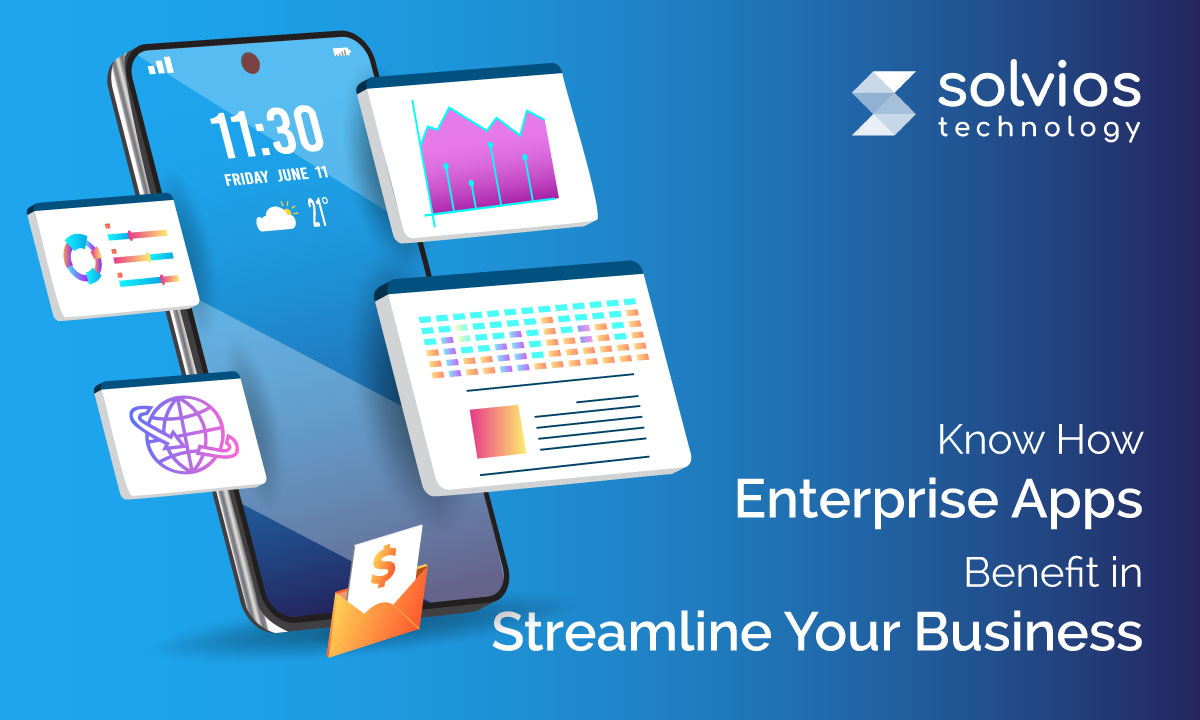 A successful enterprise application is when it is well-designed with logic, which allows it to perform tasks of individual employees or departments with minimal cost and maximum outcomes.
To make a business grow, it is necessary to analyse the business processes and identify the shortcomings so that they can be well optimised to increase efficiency in the long run.
Because business efficiency is critical to increasing your company's profits over time, enterprise application development is a critical component in achieving all-important goals such as simplifying business processes, lowering costs and investments, and having better control over the organisation to make it more productive.
What is Enterprise Application?
Before defining enterprise software, let's define the term "enterprise." An enterprise is a business organisation that works on a large scale with several business functions in private as well as public domains.
If we talk about enterprise applications, an enterprise application is a software system designed to operate for businesses of all shapes and sizes. Enterprise applications enable all types of operations within an organization and minimize the complexity of large projects. With the use of enterprise applications, businesses can minimise human involvement, improve operational efficiency through optimization, and boost productivity.
Types of Enterprise Applications
Although there are a variety of enterprise applications available on the market, they cannot be customized according to the company's business model. All of the applications can be categorised into one of the employees, departments, or company levels. Let's discuss them one by one.
Employee level enterprise is a task-focused application that aims to ease communication across all the departments within the organization and brings fluidity to the workplace. The application provides employees with relevant activities such as task management, attendance monitoring, etc. More so, it transmits necessary information to all employees. 
Department level enterprise applications improve the workflow of business processes across departments. Examples of department level applications are project management tools, marketing management apps, accounting apps for financial related operations, HR management tools, and ticketing systems for technical support. 
Company level enterprise apps intend to establish stable communication between departments. Some of the enterprise-level apps are communication apps, productivity apps, and apps for corporate training.
What You Should Know About
Enterprise Web Application Development?
What are the Benefits of Enterprise Applications?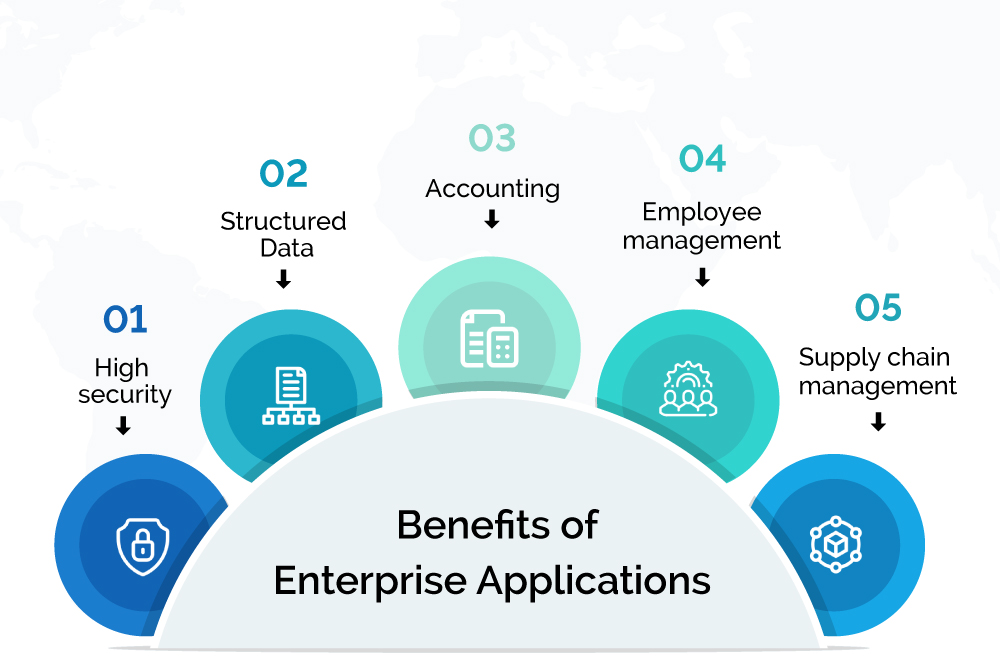 High security: Enterprise apps provide employees with role-based access, which ensures that each employee has access to a specific data set based on their authorization to do so.
Structured Data: Enterprise applications support businesses to quickly manage and process data efficiently. This way, it divides the data within the teams and departments, making it easier to access the data.
Payments, transactions, and accounting: Several software development companies provide smart features to integrate applications with payment gateways, ecommerce sites, or other fintech firms to enhance several finance-related business processes.
Employee management: Enterprise app development enables businesses to track their employees' work progress and perform employee-related tasks such as viewing payslips, applying for leave, viewing salary disbursement information, and so on. 
Supply chain management: With the supply chain management feature, manufacturers can plan, deliver, and manage the raw materials, goods, and transportation activities from their vendors. The application tracks material supply, resulting in controlled budget allocation.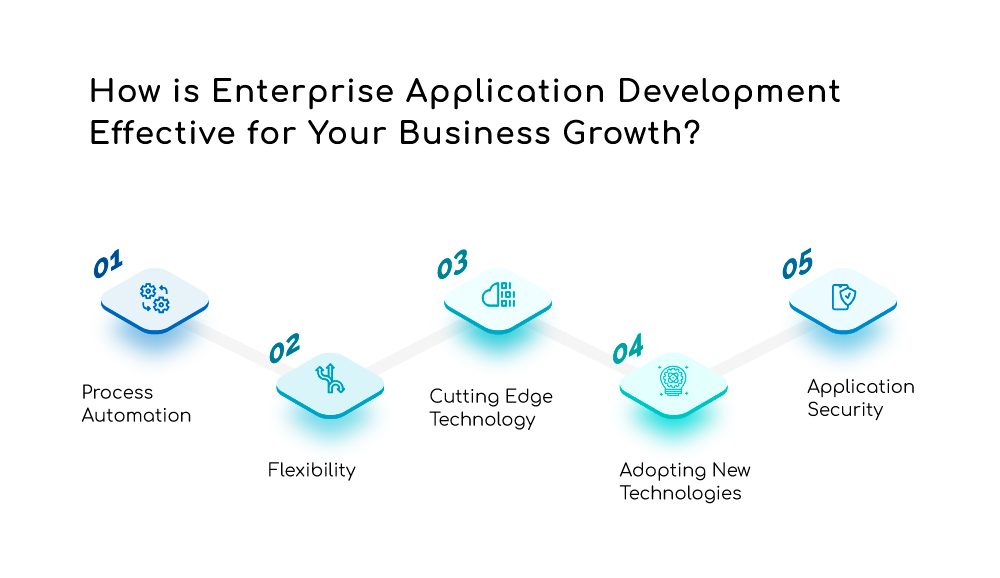 Process Automation
Business process automation eliminates potential errors and unnecessary obstructions that lead to generating revenue. From increased productivity to better customer experience, and operational performance, automation is the major reason why organisations prefer enterprise app development.
Flexibility 
Enterprise app development allows businesses to perform experiments by implementing new features and testing them. This makes enterprise app development a flexible option to build something innovative and performance-centric as the business grows in scale.
Cutting Edge Technology 
Innovations such as machine learning and artificial intelligence have already been implemented by businesses. This cutting-edge technology will drive future innovations such as 
Conversational AI
Augmented Reality
Rapid virus testing
3D multi-sensor transmitter
5G and edge computing
Password less authentication
Nanotechnology to name a few
Adopting New Technologies 
The compatibility and functionality of applications will continue to grow along with technology. Application development when updated to emerging technologies will minimise development time in the future. You may need to continuously integrate cutting-edge technologies to make your application perform flawlessly as well as stay up to date.
Application Security
To keep applications secure from threats occurring from servers and web browsers, enterprise app security has become critical in today's business environment. Development of enterprise applications ensure that your sensitive corporate data is inevitably stored ensuring the development team that data is secured from external attacks and hacks. 
Build a Successful Enterprise Application with Solvios Technology
Looking to build a performance-centric application with trending features and functionalities? Not sure where to begin? Our app development consultants are ready to touch base with you and discuss your project requirements.
We are a full-fledged web and mobile app development company with over 10 years of experience in building software solutions for start-ups, medium-scale enterprises, and large-scale enterprises.
To Conclude
Enterprise application development is critical for your business continuity and consistent success. Every company can collaborate with an enterprise web app development team to incorporate features that will aid in connecting audiences and generating revenue.
With the host of ever-changing requirements, you will need to evolve continually and keep your application accessible between your business and your target customers.
Looking for Enterprise App Solutions?