Salesforce CRM Benefits to Real Estate Industry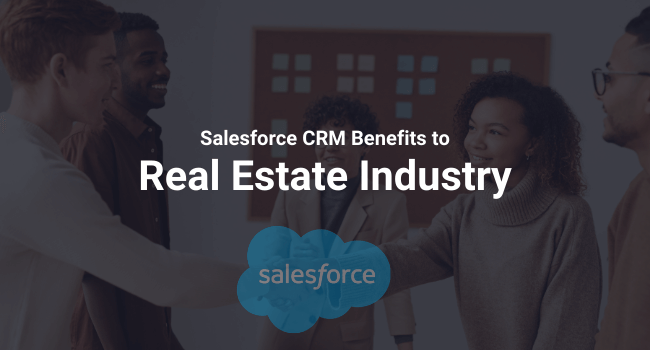 In the era of growing digital sales solutions like Salesforce CRM helps businesses in every industry niche streamline operations. Real estate CRM not only integrates information but the integrated data can be used to generate leads, and clients and automate business processes.
CRM has become a real buzzword today that can help businesses establish closer connections with their customers, provide quick service, sell more, and scale the business further.
If we talk about the real estate industry, the CRM over there also has plenty of benefits that help real estate professionals build strong connections with their potential clients.
The best real estate CRM allows real estate professionals to gather information, store it in one place, and process it into a sales funnel in an organized manner. The information can be the client's demographic data, previous purchase history, needs and expectations related to real estate, or anything related to it. This information is valuable as it gives realtors an opportunity to serve a personalized experience that leads to a higher conversion rate.
Now, among several CRMs available, we would be focusing on Salesforce CRM. Why Salesforce? Salesforce is the most popular cloud-based CRM software that offers features such as workflow creation, task management, contact management, customer engagement tools, comprehensive analytics, a mobile-ready dashboard, and more. So, hiring professional Salesforce CRM development services will definitely give you the power of Salesforce to deliver unmatched customer service.
In the post, we are mentioning the benefits of CRM for the real estate industry, and how it contributes to product sales processes and personalized customer interactions.
Boost Lead Generation
It is a fact that CRM tends to generate leads. The salesforce CRM holds the capabilities to boost lead generation by allowing users to track leads, deals, and opportunities. The leads analysis with a comprehensive report allows users to act with smarter decisions for future lead generation processes.
When CRM is integrated into other platforms like social media and individual business websites, users can better understand each lead's interest and intent while interacting with the organization. By connecting your CRM data to automation tasks, you can track lead time, demographics, ROI, and other factors related to lead volume.
Document Generation
The real estate industry deals with loads of documentation work – contracts, closing statements, and several other legal documents. Salesforce CRM not only provides you an ease to access these documents but also helps you to organize in a way that you can sort any critical data from the CRM account swiftly.  This eliminates the manual actions required to access information and the risk of error too.
Why Salesforce Support and Maintenance
is Essential for Organization Using Salesforce
Automate Business Processes
For the users, real estate CRM stands out as of the biggest benefits with the ability to automate real estate processes. With real estate CRM, automation eliminates redundant operations. The automated process includes auto-logging phone calls, automated data entries, data syncing, task assignment, lead assignment, and email interactions to name a few.
In addition, if lead status, the automation software can update the information in the CRM. The real estate CRM automation can even trigger personalized emails whether it's congratulatory or new email listings. All in all, it eliminates all the manual data entry work and client follow-up process that leads your organization towards a productive pathway.
Advanced Security
As we all know, the real estate industry deals with a lot of personal data. So, as a real estate company, you definitely want to safeguard your clients' information. The real estate CRM ensures digital security features that give your real estate operations peace of mind.
Integrating Salesforce CRM to real estate comes with two levels of security i.e. internal and external security of your information. Internal security includes role-based security, record-based security, field-level security
When it comes to external security, the cloud-based CRM ensures advanced security features along with automated backup policies and data recovery plans, in the situation of a breach.
Moreover, you get alerts on phishing and malware attempts including field audit trails and event monitoring. Firewalls protect mobile CRM users even in offline mode.
Summing Up
There are just a few benefits of integrating salesforce into the real estate industry. If you are a real estate firm and seeking CRM integration, look no further than one of the leading Salesforce Development Companies in the USA – Solvios Technology. we ensure our clients deliver optimized salesforce development services right from planning to implementation to support and services.
If you are a real estate company seeking to generate more leads and revenue, talk to our Salesforce consultants who can assist you in bringing the best real estate CRM solution to your real estate business.