What you Need to Consider while Redesigning a Business Website? Let's Discuss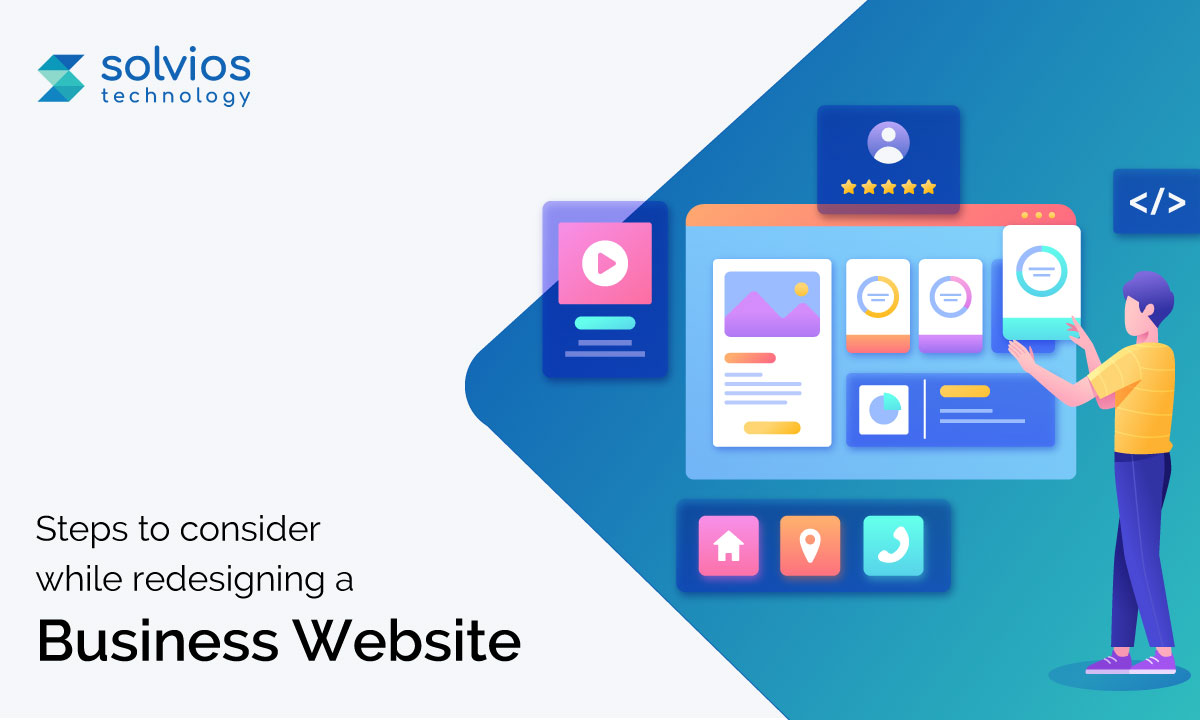 Whether you are a B2B company, an eCommerce store, or any other type of business, your website is likely to be the first and last impression for many of your visitors. To make your website successful, redesigning a website to make it modern and engaging is one of the essential factors to consider.
Being in an online business, your website is everything that reflects the image of the business you are in and the level of service you provide to your customers. And this is where a website redesign plays an essential role in making your visitors spend more time on your website.
Redesigning your website helps to engage, allure, and retain customers on your business website. By providing a seamless experience with a smooth flow of navigation, your web design can help you address the pain points and help you generate substantial organic traffic and conversions.
Why Audit Your Existing Website?
Before you make the decision to redesign your website, it is important to understand its current state. The process may be time-consuming, but it is worth the time and effort to get an idea of what needs to be improved from the user's perspective.
You audit a website's traffic to get an idea of the percentage of visitors visiting and spending time on your web platform. Google Analytics is one of the leading tools to analyse web traffic used by professional digital marketing experts. In addition, you can audit your website's health through tools such as Site Checker, SEMrush, Google Webmaster, Screaming Frog, and AHREF's broken link checker. One can also consult with website design service providers to get a better understanding of what can be enhanced.
The following are the steps to consider, along with the reasons and benefits of website redesigning. Let's have a look. 
Why Redesign a website?
Nowadays, it's extremely important for any business to have an appealing yet easy-to-use responsive website. Many people, while accessing websites across the internet, check the company's online presence, brand image, ease of use, page load speed, color theme, images, and a lot more before making purchase decisions.
Many companies understand the purpose of website redesigning but are still unsure about when and how to begin the redesigning process. A website redesign comprises a lot of planning and strategy to make it align with your business niche. A well-built website is a proven way to have a strong digital presence in the market. 
Some of the questions to think about before you decide to redesign your website include:
Are your Business Sales Dropping?
You know that the entire purpose of business is to attract potential buyers and generate sales. If you are experiencing a consistent decline in leads and sales, it's time to think about website reconstruction. However, some other reasons that contribute to the drop might be slow-loading pages and low-grade content, which can be updated at frequent intervals. 
Does Your Website Look Outdated?
Today, there are several businesses that have websites that look like they were designed and built decades ago. This could degrade the website's ranking in search engines. Today, when people shop online, they tend to compare various websites and then decide which one best fits their choice. A nice-looking, easy-to-navigate, and speedy site builds trust in the consumer's mind and assures them that the company is growing and offers them the latest goods and services. 
Are Visitors not Engaging with your Content?
If you publish blog posts, videos, tutorials, infographics, or any latest updates, and in spite of that, the audience does not stay on your website? This is an indication that something is not valuable to make people engage on your website and it is not motivating them enough to interact.
Apart from engaging with content, there are a few more important factors that, if not taken care of, can make your audience decide to leave your website. Some of these factors are annoying ads or pop-ups, no chat functionality for instant communication, readability issues, unsecured websites, and no irrelevant call to action. If such is the scenario, now is the time to think about redesigning your website.
Are your Site Elements Broken?
Imagine people navigating your website and they find web page links broken, missing images, or a specific call-to-action button that does not direct them to the page they want to visit. This is totally a bad experience for your audience.
Broken web page links harm your website in two ways Firstly, it ruins the user experience and makes users choose to exit your website without engaging or making any transactions. Secondly, Google and other search engines do not prefer broken links. So, the more you have broken links, the more your website will drop in the search rankings. 
These issues not only downgrade the reputation of any business but also lower the SEO efforts you may have put into previously.
Types of Website Redesign to Focus as Required
According to your website's current condition, you can consider redesigning a website in one of the following ways:
Redesign with minimal changes – If your website demands only features and minor updates, the site will continue to have the current structure. 
Redesigning with crucial changes – If your website demands that you update the whole structure along with new content, it is advisable to rebuild the website under the existing theme.
Building extension of current Site – If your website needs to just have additional features and new functionality, you can extend the website with the overall required UI updates. 
Launching a whole new website – If your website is out of date, you must start from scratch in order to achieve a fresh new design with much-needed updates.  
Benefits of Redesigning a website
Redesigning a website is a decision that will bring numerous benefits and will give you an edge over your competitors. Listed below are the benefits of the same. 
Bring in more visitors
A good website should excel in seamless functionality and impeccable web design. When a website is visually appealing and functions flawlessly, visitors will likely spend time on the website. Additionally, websites redesigned with a content management system not only provide cost-efficiency but allow you to extend functionality, update content, and provide SEO-friendly features, plugins, and extensions to optimize your website's rank in search engines.
Experience Better Analytics
Analytics plays an important part in measuring the success of any website, as it provides valuable insights and ensures a return on your investment.
Having data insight is incredibly essential to the success of your website and overall business. Analytical insights assist in planning a better user experience for the audience. Plus, understanding user behavior can make sure your web page is optimised well for better conversion rates.
The analytical insights also indicate those web pages on your site where visitors' traffic is descending and where optimization is required. Having an inside look on the basis of data collection about your audience behavior and overall customer journey can ensure your website performance goes well in the long run.
You can better Optimize your Website for SEO
Search engine optimization is a practice aimed at aligning your website with a search engine ranking algorithm so that it can be crawled, indexed, and ranked in the SERPs for queries searched by users. SEO helps your website to rank at the top of millions of websites in response to relevant keywords searched. When implemented in the right way, SEO improves online visibility and increases website traffic, which impacts your business growth.
Keyword  centric page titles and descriptions; publishing unique and original content; clear call-to-actions; decreasing page load speed; using relevant keywords, and so on are some of the key factors in website optimization.
The Impact of Digital Marketing on Business Growth
You will Deliver the Content Fast
A professionally looking, a fast-loading website will allow people to find what they are looking for in no time. Whether it's a product, or service, or filling in an inquiry form, when the particular web page is accessible easily, it will build credibility and provide a satisfactory experience. Optimized images, fonts, URLs, and other visual assets are essential factors that fall under a great website design strategy. Ensure your website is tested properly before you publish it live.
Do you Need Web Redesign Work for your Business?
Does your website face any design and functionality-related issues? Are you struggling to generate sales?
At Solvios Technology, we have years of experience building performance-centric websites that deliver a positive return on investment for businesses of any size across the global market. 
Schedule a meeting with our design consultants