WhatsApp with Salesforce Integration: Explained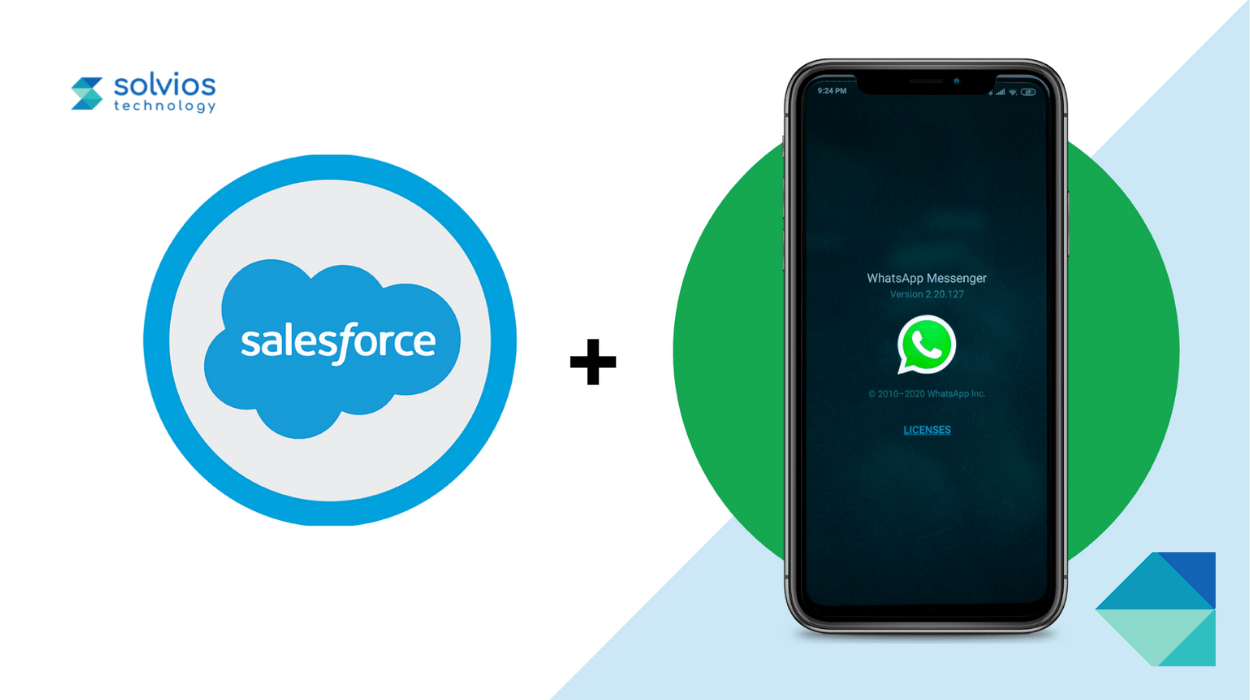 Since WhatsApp has become the most accessed communication platform, the ability to use it and connect with them has also been leveraged a lot. Also, since Salesforce is the main CRM framework in the software business niche, WhatsApp with Salesforce Integration was long anticipated.
With WhatsApp being utilized by 2 billion individuals in more than 180 nations, it has effectively one of the biggest client bases. WhatsApp likewise has dedicated business applications and enterprise solutions intended to help small-scale and large-scale organizations with client support and sales processes. Tech enthusiasts all around the world foresee WhatsApp being utilized as the essential source of communication within the enterprise-level niche.
The broad use of WhatsApp as a preferred channel across the globe has increased the need of having WhatsApp installed in big businesses' journeys. Therefore, it was obvious when Salesforce acquired the capability to establish connected customer experience and WhatsApp integration as a component of the Spring '20 release.
As WhatsApp continues to become a necessity for organizations to communicate with customers, Salesforce and WhatsApp integration would likewise extend your CRM platform of the database by benefiting it for data consolidation, data generation, and personalized campaign management. If you want to learn or implement how to integrate Salesforce with WhatsApp messenger, do connect with our Salesforce Integration Consultant at Solvios Technology, who can assist you in solving your concern.
When it comes to integrating WhatsApp with Salesforce, basically there are two ways to integrate WhatsApp with Salesforce API integration and finding an app from AppExchange. Let's discuss the same.
WhatsApp API Integration
By using the WhatsApp Business API provider, you would be able to integrate with SOAP or REST APIs. All the transactions occur through API calls between WhatsApp and Salesforce.
There are numerous API libraries accessible to connect WhatsApp with applications that can be utilized by users to build up a connection.
However, this option might be useful if your need requires use cases specific to your business or if there are security issues to be adhered to. WhatsApp API Integration has a low text message price, but in the long term, it becomes pricier when other development processes are included.
Install an App from AppExchange 
You can install an application from AppExchange into Salesforce to get the features that you are searching for and automate everything in a couple of hours. There are very few Apps accessible in the AppExchange though for Salesforce. The plus points of this method are
Pre-built templates are available in the application to send messages to your WhatsApp consumers.
The Apps are available with pre-built features such as bulk texts and sending texts from the workflow.
Zero development efforts required.
Easy to configure and time-saving.
Value Text App
ValueText App is most likely one of the most outstanding apps out there in AppExchange, in case you integrate WhatsApp with Salesforce. ValueText App has many features and provisions that can fit any industry or domain. In less than 60 minutes, you will be able to install and configure basic use cases. ValueText App has the following great features:
Send a bulk text or bulk text from reports
Text from process builder or workflow
Bots
Chat window and chat history
Personal inbox with notification
Text templates
SMS
Use Case – Bots
When a case is closed in Salesforce, there will be an automatic WhatsApp or SMS will reach the customer based on the configuration setup. Use Case – Bots have features such as a single messages component where one can send text, use a chat window, and view record history.
Final Words
From the above ways mentioned for Salesforce to WhatsApp integration, AppExchange is one of the quickest options you can go for. Moreover, it has minimal customization requirements and also has the ability to leverage predefined app features.
So, if you require any assistance in the integration process, do connect with our Salesforce integration consultants at Solvios Technology. We are an expert team of certified Salesforce Consultants who can integrate your organization's existing system into one centralized platform. Our Salesforce support services will help you get the right level of assistance. From monitoring and maintenance to user assistance, our expert guide will give you a proactive service.
Schedule a meeting with us for the Salesforce integration project.