Why Do You Need Salesforce Support and Maintenance Services for Your Business?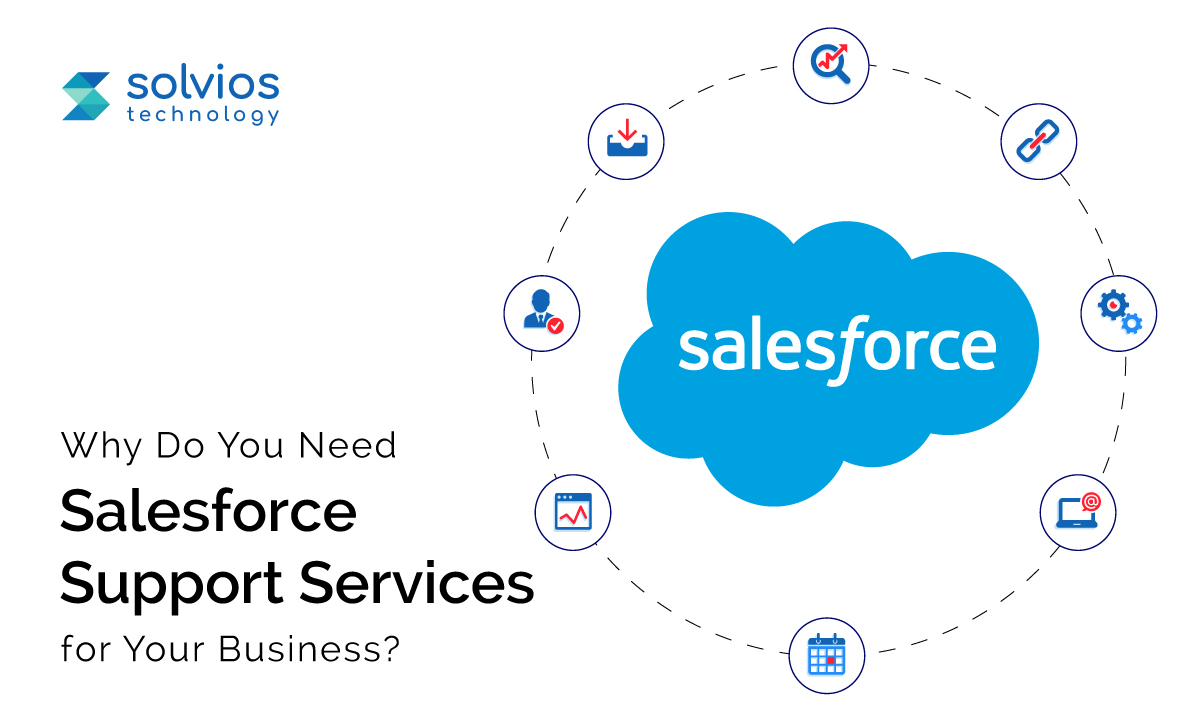 Salesforce is a leading CRM software company. For many organizations, Salesforce is a crucial asset as it manages marketing, sales, custom relationships, and every business operation seamlessly.
One of the most well-known CRM programs around the world is Salesforce. As the king of CRM, it equips businesses with a platform to assess customer cases and conduct ongoing operations every day. It also provides a variety of goods and services that promote the efficiency and simplicity of business operations.
Salesforce can be highly challenging to design, deploy, manage, and use due to its size and complexity. For this reason, companies that attempt to implement the system end up with increased expenses and a waste of time.
Therefore, it is wise to transition your company from its current setup to its new system with the help of Salesforce support and maintenance services. Increasing the effectiveness of your Salesforce platform through consulting partners helps increase your company's productivity.
Below are some of the leading benefits of using Salesforce Support Services to achieve your business goals.
It Facilitates the CRM Selection Process
If you are unfamiliar with the CRM market, a CRM consultant is your knowledgeable assistant. They are the professionals who choose one CRM over another. Hiring a Salesforce CRM consultant allows you to relay your business requirements, and they are experts in picking the best available features to meet your business needs while considering integration with your existing assets. You are also required to evaluate the overall cost of ownership. That's where CRM consultants are helpful. 
Its the Time to Hire a Salesforce Consultant!
Here are 8 Reasons
Customization of Features for Your Business
If you are implementing Salesforce for the first time and integrating it with your current system, Salesforce consulting and support services can help you choose the best integration technique. If you want to make significant changes to your salesforce framework, a consultant can be your long-term Partner. A consultant would be an excellent choice for getting the best customization for your specific needs and developing new features.
Today, data has become the backbone of every business. Businesses are totally dependent on data tracking and analysis. And that's where Salesforce's data management strategy comes into play, where customer information can be stored and accessed on a customizable dashboard.
A salesforce consulting service can help you determine the best possible way to utilize data across departments. Salesforce support and service providers can help in the following ways:
help you develop action plans and assist in making data-related decisions.
They can implement strategies to optimize data systems.
assist you in developing the data architecture.
assist you in selecting the appropriate data sources.
Data Migration
Data migration is the process of transferring data from one company's system to another. This data needs to be handled securely. Salesforce is a cloud-based environment that aids in the migration of large amounts of data.
A Salesforce implementation partner ensures the transfer of all your data to the new system without any loss of data. 
Salesforce Data Migration Practices
Keep up with Latest Updates
Salesforce is constantly growing by providing excellent products to businesses of all sizes. If we talk about the updates, at least three updates are released every year. It may be difficult to keep up with these developments while implementing salesforce in your company. To keep your business performance on the track, you need assistance from a salesforce partner. A salesforce consultant can help you stay competitive, and increase business process efficiency, customer relationship evaluation, problem-solving efficiency, new application integration, customization, and more.
Final Words
Businesses today often use the Salesforce platform to improve customer relationships, increase business efficiency, and increase productivity. The best way to make your business perform successfully with regard to salesforce deployment is to hire a professional salesforce support and maintenance service.
Solvios Technology can help you scale up your business operations and achieve your objectives by delivering a comprehensive salesforce solution.
Our consultants will help you set up a fully functional salesforce environment to let you deliver quality services to your customers.
Being a Successful Salesforce development company in the USA, we have over a decade of experience in Salesforce support and maintenance solutions. Our team has strong capabilities in understanding your business requirements and providing an implementation that is tailored to your needs.
From small businesses to enterprises, we offer scheduled maintenance services as a part of our managed IT services. Our certified salesforce admin and developer team provides user training to ensure effective salesforce maintenance within your organization.
To Schedule a Meeting With Our
CRM Consultant Today