Top Reasons Why Salesforce Benefits Fintech Firms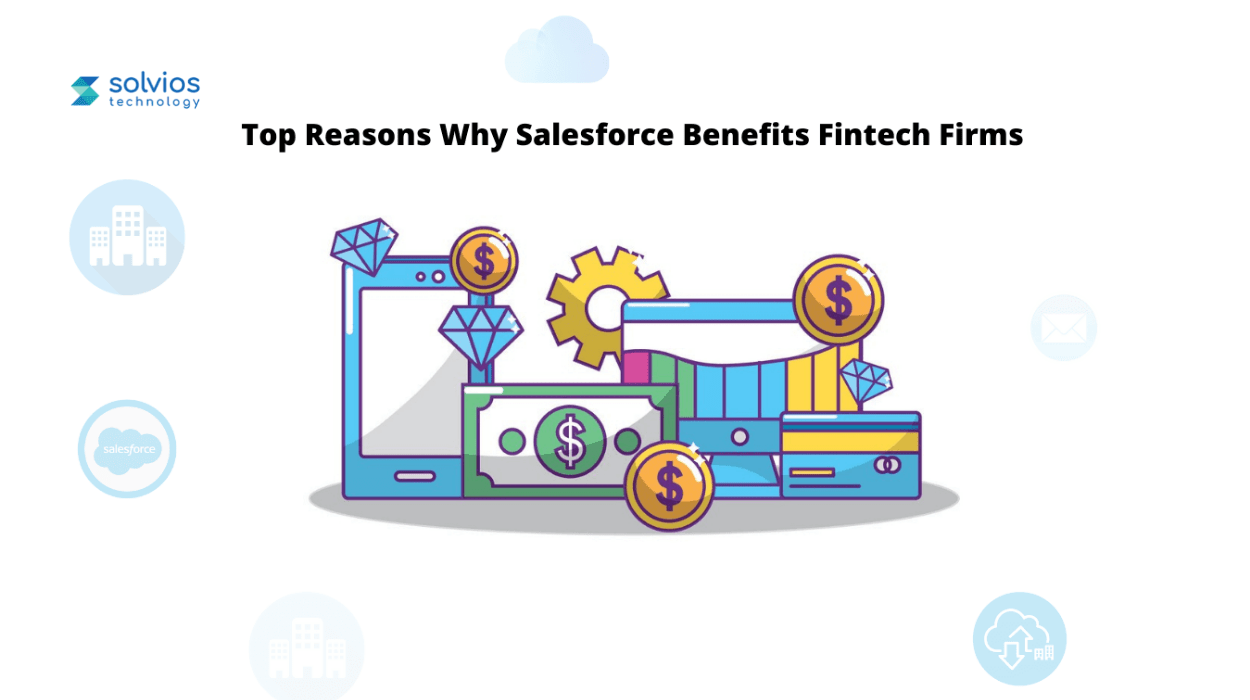 Leading a Fintech Firms has never been easy to manage. It is one of the most difficult leadership challenges that require mastery of financial data, evaluating cash flow scenarios, secure financial management, risk management, understating statistics, forecasting future earnings & expenses, and more.
That said, for a financial company, building customers' trust is crucial for their long-term engagement and satisfaction.
Today, customers rely on financial service companies with their hard-earned capital and expect secured transactions with an easy process of managing wealth.
To run a financial organization successfully, you need to deliver an improved consumer experience every time they access financial facilities. And that is where Salesforce Cloud Solution comes into play that acts as a wealth management software that handles and solves financial related challenges.
Whether you are a banking firm, wealth management firm, Insurance service provider, or lender; the power of the Salesforce CRM software solution allows you to put your customers at the center of every interaction. It connects your entire organization across channels, geographies, and lines of business, thereby growing your business by fulfilling your clients' financial needs.
How does Salesforce Cloud Solutions benefit fintech firms to solve financial complexities? Let's have a look at some of the main reasons.
IT Eliminates the Risk of Outdated Software
In such fast-paced technology, the software is the backbone of financial services organizations. And, financial companies often face software issues when outdated software remains unmaintained. It loses its capability to integrate with new applications, and even cannot run smoothly on devices. As a result, the software then defies to operate efficiently for the companies and their clients as well.
Salesforce Cloud Solution is a platform that can do wonders for your sales and marketing team. The platform provides visibility into a customer's journey, insights at every stage of the customer lifecycle, access to real-time critical data, and even displays important data in a single place. Moreover, the software comprises usable functionality and customization options that are easy to implement.
IT Helps in Better Customer Engagement
As a Fintech Firm several times it becomes difficult to meet customers' expectations. For instance – if you are a financial advisor, there needs a constant communication flow to maintain a long-term relationship with your clients.
A CRM Solution for Financial Advisors allows tracking client tasks, deliver customized yet proactive business advice, get a complete view of every customer, and grow a strong client base.
For wealth managers, Salesforce offers superior cloud-based technology. It helps fetch client data onto a single dashboard, capture and analyze client data, and provide insight into the client's relationship networks.
The Marketing Process gets Streamlined
Salesforce allows accessing reports highlighting the trends and customer behavior, from anywhere and anytime. This way, it becomes easy for the marketing department to design the best marketing strategy. Moreover, it allows the marketing team to strengthen customer relationships with personalized marketing in accordance with customer needs.
Sales Department get a Boost
Since the financial institutions will be able to fetch organized financial information and accurate customers' needs, it would be convenient to deliver financial products or services as per customer requirements. This way, the sales figure will definitely see a solid boost.
Final Words
Fulfilling customers' needs and coming up with their expectations is every financial organization's goal. And to lead in it, there needs flexibility in business operations to access financial information easily. With Salesforce Financial Service Cloud, you get all the customer data well-organized, and easily accessible. Salesforce CRM is beneficial to Fintech Firms with long-lasting customer relationships.
If you are a Fintech firm seeking Salesforce consultants for any financial services, Solvios Technology is one of the trusted Salesforce Consulting Partners with in-house financial services experts.
Over the years, we have assisted several wealth management firms to integrate the Salesforce Financial Service Cloud Platform that works to strengthen customer-client relationships. Talk to our Salesforce consultants to discuss a CRM project.