Top 7 Benefits of Salesforce Einstein AI to Deliver Better Customer Experience for your Business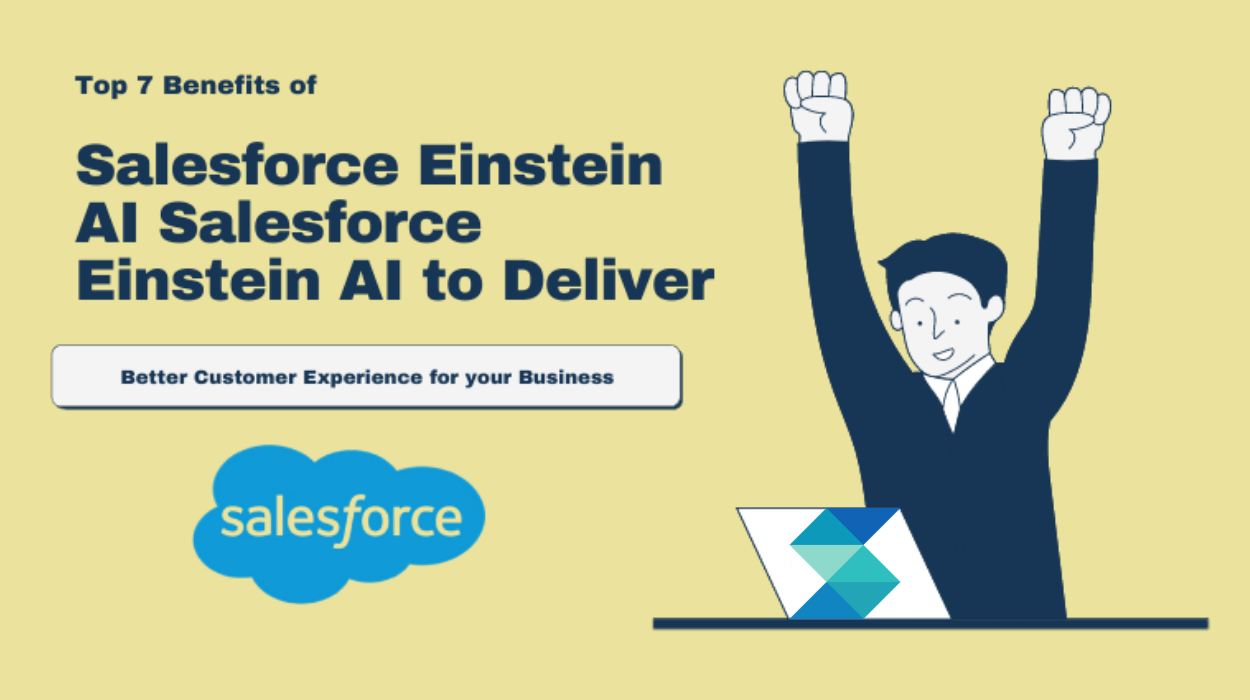 For every business, customers remain the topmost priority. To serve their customers in a much better way, and enhance company reputation, businesses are already using Salesforce Einstein AI products.
Salesforce Einstein AI is seamlessly integrated into many Salesforce products. The users just need to put their data in Salesforce. And the feature that is powered by AI will adapt the data to deliver more predictive information about your customers.
There is no denying that Salesforce has been honored as the best customer relationship management software. In fact, Salesforce is the first CRM to have AI capabilities with its AI tool, which was launched in 2016. The adoption of AI for CRM makes Salesforce customer 360 smarter. This is empowering businesses to deliver the best by interacting with the consumer more smartly.
In this article, we have overviewed what is Salesforce Einstein is, and the top benefits to the Salesforce users in Salesforce CRM development Services.
The Top 7 Salesforce AI Benefits for Salesforce Users: 
Listed below are the top seven Salesforce AI benefits. The following points are discussed in detail below to show what makes each so valuable to the salesforce users.
Valuable Insights from Previous Customer Data
Maximize CRM Capabilities
Einstein allows High-Value Tasks
AI Confidently Forecasts the Future
Easy Case Routing
Einstein Revamp Customer Experiences
Easily Handles Customer Requests
1. Valuable Insights from Previous Customer Data 
Einstein's analytical capabilities allow users to predict future patterns of business processes based on previous customer data. The Einstein analytic cloud and wave analytics apps help salespeople get the future pattern of business. This helps businesses to prepare for better strategies to serve customers and increase productivity. Wave analytics apps is a role-specific analytic app that provides salespeople insights to take action instantly.
2. Maximize CRM Capabilities
For businesses looking to maximize their CRM capabilities, a CRM with AI provides businesses with a comprehensive view of every individual customer. AI tools collect and predict large amounts of customer data, process it to analyze insights, predict outcomes, and suggest the further steps required for a customer journey.
In the era of digital business, it's essential to integrate CRM with AI to align your sales process, so that businesses can get a holistic view of their customers. To combine your CRM with AI, it's recommended to consult with a Salesforce CRM Consulting Service, which can provide comprehensive information on all the parameters related to how Artificial Intelligence and Machine Learning can transform your sales and marketing activities.
What is Salesforce?
And Why Should You Consider Salesforce as a CRM Solution
3. Einstein allows High-Value Tasks
The second-best benefit is Salesforce AI can accomplish high-value tasks. Salesforce with Einstein makes it easier to identify automation workflows, letting employees complete high-value tasks. This allows employees to perform the work process faster and eliminate the chance of repetitive chores.
4. AI Confidently Forecasts the Future
Salesforce Einstein AI with the use of predictive analysis provides sales agents with comprehensive pieces of information that help in enhancing customer interactions. It represents the agent the next best step required to nurture customer relationships. This allows businesses to gain optimum customer satisfaction, and find cross-sell opportunities to generate more business.
 5. Easy Case Routing 
In every business, there are cases where products are defective which can decrease business value. Based on user data, Einstein AI provides automated case routing.
Salesforce Einstein analytics helps well in routing the case automatically of a known product defect to the sales agents. It also ensures sales agents by providing instructions for effective issue management.
6. Einstein Revamp Customer Experiences 
Einstein helps your business in enhancing customer experiences. Based on the recommended cases, it helps in resolving specific issues, thereby revamping customer experiences.
Additionally, replying to customer queries and inquiries can be unmanageable at times. With Salesforce Einstein, you are sure to respond to multiple customer queries. Einstein also recommends businesses respond to the customers' questions. This makes the whole customer journey smooth and makes them satisfied.
7. Easily Handles Customer Requests 
Now no business needs to spend much time handling lots of customer requests. AI bots help in managing and effectively resolving customer requests on the go. With minimal customer handling time, businesses can deliver faster customer services to make them happy and satisfied.
Summing Up
So, these are the benefits of an AI-powered platform called Salesforce Einstein. Salesforce Einstein can truly transform your daily business operations with the help of predictive intelligence capability, and enable your business to cultivate strong customer relationships and a satisfying customer experience.
Are you looking for certified Salesforce CRM consulting services to unlock the potential of Einstein AI? Then Solvios Technology is a global salesforce registered consulting partner that holds the right knowledge and expertise to implement Salesforce Einstein successfully with support services.